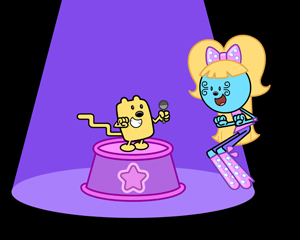 On October 13, the curious and quirky star of Wow! Wow! Wubbzy! bounced his way - kooky tail and all - onto DVD for his second full-length movie, Wubb Idol. Along for the ride with Wubbzy is international pop star Beyoncé Knowles as the voice of Shine, lead singer of the awesomely popular girls group The Wubb Girlz.
Wubb Idol is Beyonce's voiceover debut and first-ever children's project. The singer is a perfect fit for the role because she's not only a star, she's a positive role model, says Erin Crawford, Director of Brand Marketing for Anchor Bay Entertainment. And with her eight-year reign as lead singer of Destiny's Child, Beyoncé seems to have a lot in co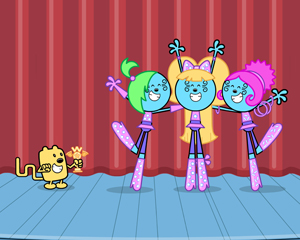 mmon with her character.
"Viewers will be very excited to have one of their favorite entertainers be part of something the whole family can relate to and enjoy," says Crawford. "Wow! Wow! Wubbzy! is all about togetherness, and we are hopeful that Beyoncé's participation will bring parents and their kids even closer as they watch this very special DVD together."
This may also be true for Beyoncé's family - her 4-year old nephew, Daniel Smith Jr, is reportedly a big fan of the show.
The movie, which aired May 1 on Nick Jr., includes an original song composed and performed by Beyoncé entitled "Sing a Song," as well as 93 minutes of footage, special activities, coloring pages, and music videos.
While Wubbzy's antics are sure to delight, his viewers will also learn a few life lessons along the way, says Crawford. "The movie entertains children while presenting positive messages about friendship, inclusiveness, and the importance of being yourself."