Thanksgiving
rituals can make their way into a few meals besides the turkey feast. Here are a few ideas to try with your family.
Pilgrim Mac and Cheese
   Most of us have those non-stick gingerbread baking pans somewhere in our collection of pots and pans. This is a great way to revive that old man — I mean, pan.
2 lbs. elbow pasta
1lb. grated cheddar cheese
1 cup grated Parmesan cheese
6 cups milk
1/2 cup butter or margarine
1/2 cup flour
4 egg yolks
salt and pepper
Pam food release
4 cups fine unseasoned bread crumbs
8-16 pitted black olives
1 piece black construction paper
   Cook the pasta to al dente. Spray pan with the Pam and dust generously with breadcrumbs to create a crust; pour off the excess. Melt the butter and add the flour, making a roux. Cook for a couple of minutes, and then add the milk, stirring so it doesn't burn. When it is fairly thick but not boiling, remove from the stove and add the cheeses. Then add the pasta, and when semi-cool add the egg yolks. Mix and pour into the pan and bake at 350 degrees for 15-25 minutes, till set. When removed from the oven, let sit for 10-15 minutes, and then invert on a platter. To garnish, use the olives cut into eye shapes for the mouth and nose, and in half for the belt buckle and cufflinks. Let your children make a hat out of the construction paper. Serve and eat.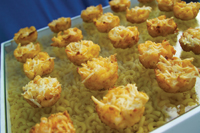 Kids' Club
   Using leftovers from the big Thanksgiving dinner, try our family's favorite sandwich, "The Day After."
8 ounces sliced turkey breast
1lb. turkey bacon (healthier) cooked and cut in quarters
6 romaine lettuce leaves
1/2 cup basil aioli (recipe to follow)
9 slices whole grain bread, toasted
8 8-inch skewers
1 pint grape tomatoes
3/4 cup mayonnaise
1/4 cup sour cream
1 clove garlic
1/4 cup grated Parmesan cheese
1 bunch basil
Puree everything in a food processor (it can last for up to seven days)
To assemble the sandwich:
   Lay out all the toasted bread and spread the aioli on each slice. Then place a little turkey, some lettuce, and the bacon on each slice, followed by another piece of bread. Repeat until the last bread and turn it upside down. Cut the sandwich into four sections and skewer two pieces with a grape tomato in between and on top. You can make these an hour or two ahead of time because the tomato will not leak into the bread.
ELEGANT AFFAIRS is a five-star, full service catering and event planning company based in New York City, Long Island and the Hamptons, headed by CEO and president Andrea Correale. In addition to executing events for celebrities and Fortune 500 companies, Elegant Affairs is the exclusive caterer for the historic club, The Players, in Gramercy Park as well as for the mansion that houses the Nassau Country Art Museum in Long Island. For more information:
www.elegantaffairscaterers.com
.