60-YEAR-OLD MOON
   Young New Yorkers may not have the patience or stamina to sit through full-length Broadway productions. But one venue that caters to such an audience and never disappoints is the
Manhattan Children's Theatre
. Nestled in an easily-accessible Tribeca neighborhood, the theater offers first-rate drama for the youngest New York City residents.
   This fall, the theater celebrates the 60th anniversary of Margaret Wise Brown's
Goodnight Moon
with a musical adaptation for kids 4 and up. Directed by the theater's own executive director, Laura Stevens, and with music and lyrics by Chad Henry, the production closely follows the book (including the cow's attempt to jump over the moon). The musical runs September 15 through December 9. Other upcoming productions this season include:
Lilly's Purple Plastic Purse, Hansel & Gretel
, and
If You Give a Mouse a Cookie
. Shows run Saturdays and Sundays at noon and 2 pm. Tickets range from $10-$20. Manhattan Children's Theatre, 52 White Street (between Broadway and Church Streets). (212) 352-3101;
www.theatermania.com
.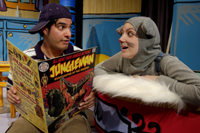 SPACE KIDS
   Weekends wouldn't be the same for many NYC families without the
Just Kidding Series
, part of the annual family programming line-up of music, theater and dance at
Symphony Space
. On October 6, at 11am, popular family indie band,
Milkshake
, performs. The band is led by singer Lisa Matthews and guitarist Mikel Gehl. 11 am. Tickets: $25 adults; $13 children. Also on the fall line-up: T
he Gustafer Yellowgold Show
, October 13 at 11 am; Korean Music and Dance: Tuning into the Folk, October 20, noon;
The Nutcracker
, December 15, 11 am.
   The Thalia Kids' Book Club takes place every Sunday, and offers children the opportunity to met authors and discuss books. Actors, such as Cynthia Nixon, will read excerpts and have a Q&A session, followed by an art or writing activity. The season also includes performances by NYC favorites: The Paper Bag Players, The Suzi Shelton Band, and Ralph's World. Peter Norton Symphony Space, Peter Jay Sharp Theatre and Leonard Nimoy Thalia, 2537 Broadway at 95th Street. (212) 864-5400;
www.symphonyspace.org
.
GETTING CRAFTY
The 22nd Annual Crafts Festival at Lincoln Center
takes place this month, on the weekends of
September 1-2 and 8-9. This is a premier NYC
crafts fair; only works especially selected from nearly 3,000 applicants will be on display and will include Items such as leather bags, needle art, decorative glassware, shawls, and jewelry. Kids may set their sights on the puppets, loom weaving, and origami. Classical, new age and jazz performers provide entertainment: Peter Blanchette will perform classical works made from his own designed and hand-made instruments, and violinist Lenny Khmel performs classical and romantic music throughout the day. Lincoln Center's Damrosch Park and Josie L. Robertson Plaza, Columbus Avenue at 64th Street. (973) 746-0091;
www.craftsatlincoln.org
.
WOLVES, WHERE?
   A musical adaptation of the bestselling book,
The Wolves in the Walls
, originally written by Neil Gaiman and Dave McKean, makes its way to the
New Victory Theater
October 5-21. Like the book, the stage production tells the story of Lucy, who hears bizarre and frightening noises coming from the walls in her old house. No one believes her, and eventually, her worst nightmare comes true — wolves come out of the walls.  Performed by the National Theatre of Scotland, the musical, at a little over an hour, is the perfect length for young theatergoers, yet still entertaining for parents. The theater recommends that children 7 and over attend, as the dark shadows and life-like puppets may frighten toddlers and preschoolers.
   Known throughout the city for quality productions at an affordable price, The New Victory Theatre has a stellar line-up of family entertainment including: Golden Dragon Acrobats,
Rapunzel
, and
Pigs, Bears, and Billy Goats Gruff.
Tickets range from $12.50- $35. The New Victory Theater, 209 West 42nd Street. (646) 223-3010;
www.NewVictory.org
.
ACCORDING TO CMOM
   Get your kid interested in the ancient Greeks before he goes to college, with The Apology of Socrates playing at the
Children's Museum of Manhattan
in October. The play, on October 13 at 2 & 3 pm, follows the great philosopher as he engages in a battle of wit and principle against his accusers. On October 20, CMOM's popular
Author Series
continues with
Motherbridge of Love
, at 3 & 4 pm for ages 5 and up. Chinese journalist and author Xinran Xue reads the poem from the book of exchanges between a young Chinese girl and her adoptive parent.
   CMOM has numerous family activities this fall designed to educate and stimulate young minds. On September 29, the museum joins forces with the Alliance for a Healthier Generation on Nickelodeon's worldwide
Day of Play
, when the network will go off the air for three hours, encouraging kids to, very simply, just play. Children's Museum of Manhattan, 212 West 83rd Street. (212) 721-1234;
www.cmom.org
.
BOY AND THE BUBBLE


    For those who have yet to see the popular show composed entirely of "bubble art",
The Gazillion Bubble Show
, now playing at
New World Stages
, has been extended through January 20, 2008. Self-proclaimed "bubble artist" and 13-time Guinness Book of World Records holder, Fan Yang, has taken a childhood fascination and turned it into an art form. The show continues to mystify audiences with its bubble artistry, lasers and lights. It runs 70 minutes with no intermission. New schedule begins September 12:  Wednesday-Friday at 7 pm, Saturday at 11 am, 2 & 7 pm, Sundays at noon & 3 pm. Tickets range $35-$60.  New World Stages Theatre, 340 West 50th Street. (212) 239-6200;
www.telecharge.com.