Former mayor Ed Koch has been a raconteur most of his life, whether in the political arena, or in his many writings.  Recently, he and his sister, Pat Koch Thaler, collaborated on their second children's book, Eddie's Little Sister Makes a Splash (G. P. Putnam's Sons, $16.99).  The book, which relates the true story of Eddie saving his sister in a lake, follows Eddie:  Harold's Little Brother, which tells the story of the non-athletic young Ed and his much more coordinated big brother.  But as the second book proves, Eddie was not a complete wash-out as an athlete — he was a strong swimmer who took lessons at his local Y, and rescued his 5-year-old sister when she started drowning in the Catskills.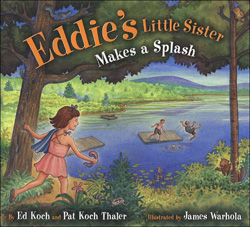 The book captures a time when city families relocated upstate for the summer, to bungalows. "We were poor," Koch says, "but I didn't know it. I've always believed the best story is a true story, one which shows your personality and voice."  The book captures the minutiae of a family vacation, the 'scary' bare cabin the parents make homey for a two-week stay, the doll that Pat brings in the car, and the hunt for a friend her own age.  He adds that it was common for boys and girls to wear rubber swimming caps, and that was how he happened to notice Pat's familiar cap when she secretly followed him into a lake. 
  A native of the Bronx, Koch moved with his family to Newark for 10 years during the Depression.  "We escaped when I was 17," he says — to Flatbush, Brooklyn.  He has lived most of his adult life in Manhattan.

   The brother and sister first wrote together because "Pat has seven grandchildren that I adore and we decided, 'Wouldn't it be nice to see if we could write a book to interest them,'" Koch explains.  His grand nieces and nephews loved the first book, he reports, and adds that he has read to them many times.

    "A child's book has to have a moral," he believes, citing "the enormous impact" of the first book's moral — letting kids in on the secret that 'you don't have to be good at everything.' When the big brother tells young Eddie to give up baseball, he also tells him, "You talk good." Koch cites this as the impetus to becoming mayor.  The simple moral of the latest book is: "Don't go near the water if you can't swim."

   The illustrations, which have a vintage feel, are by James Warhola, nephew of Andy Warhol and a resident of upstate New York.  But the picture not to be missed is on the book flap; it shows a teen Ed Koch with a protective arm around his younger sister.

   Ed Koch stays busy, as a partner in the law firm, Bryan Cave, and appearing on a radio show and a weekly TV spot.  He says his challenge now is "how to remain relevant until I die — and I hope to do both.

   "In America, regrettably, we've established an enormous fear of death," he muses.  But he's not ready yet.  He and Pat are already planning their next book — about bullies and the schoolyard.