One of the pleasures of Fire Island is the car-free bike riding.  But you don't have to schlep all the way to Long Island to enjoy this kind of freedom. New Yorkers now have their very own car-free spot, Governors Island, with ferry service from both Red Hook and Fulton Ferry Landing in DUMBO.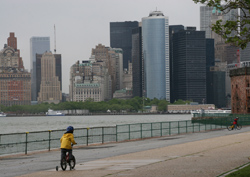 Of course, there's not much else.  Governors Island, which served as a military base, has sat vacant for years while the city decides what to do with it.  To develop or not, that is the question.

  Last year, the National Park Service started offering free guided walking tours, and these continue, Wednesdays to Fridays.  But on the weekends, there is more to do this year.  Families are encouraged to take bikes on the Saturday and Sunday ferries, which leave from the Battery Maritime Building in lower Manhattan, every hour from 10am–5pm (they leave from the island on the half-hour). 
  Saturdays in July, a free concert series, Folks on the Island, is offered by Trinity Church and the Governors Island Alliance. Concerts are at 1:30pm and include Odetta on July 7, a Harry Chapin tribute on July 14, and Richie Havens on July 21.  Food and drinks are sold, but you are allowed to bring your own, and picnicking is encouraged.

   The island's empty streets feel like a movie set, particularly with the backdrop of the Manhattan skyline and the Statue of Liberty.  Biking is on clearly marked lanes. You can venture onto some of the streets, but others have restricted access; we saw a pool, climbing apparatus and wide open fields.  You can see — from the outside — the 19th century fort and castle, and Federal and Victorian houses.

  New York Water Taxi is $5 to and from Red Hook, leaving behind Fairway; and $10 to DUMBO?($6 for children under 12), conveniently located near the Brooklyn Ice Cream Factory.

  For more information, visit www.governorsislandalliance.org; for more information on the festival, go to www.folksontheisland.com; and for the New York Water Taxi schedule, go to www.nywatertaxi.com.