Actor and comedian Bill Cosby shows his support for the Brooklyn Public Library system and encourages community members to take action in the "Support Our Shelves" campaign.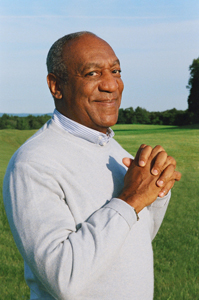 It's no secret that Brooklyn is a breeding ground for some of today's finest writers and artists. Our borough is rich with culture and books that teach young minds to excel, and many would like to see it stay that way despite budget cuts. Over the past several years, Brooklyn Public Library has greatly increased their efforts in fundraising through private philanthropy to help bridge the ever-widening gap created by the steep decline in City and State tax-levy support, but it's not easy, especially in this economy.
Recently Brooklyn Public Library received a personal phone call from Bill Cosby to express his heart-felt support of the Library's Support Our Shelves fundraising campaign, which hopes to raise $500,000 to keep books, DVDs, and other materials on the shelves of all neighborhood libraries.
"I believe in the Brooklyn Public Library, and it is much more than a place to simply borrow books. They offer a multitude of free resources like audio books, CDs, and DVDs for people who may learn more effectively from or better enjoy listening to spoken information rather than reading printed text," said Cosby. "It is important that these resources continue to be available at the library so I encourage everyone to make a donation, big or small, to the Support Our Shelves campaign, which will go to purchasing these important materials that are so invaluable to the community."
The Cosby Show, a long-running comedy series about a working family, took place in Brooklyn Heights during the 1980s and captured much of the beauty and knowledge that is still readily found in Brooklyn. It also showcased the trials and tribulations of two working parents trying their best to raise their children. With a strong voice like Bill Cosby's, the library hopes it will inspire the local community to take action and donate to make sure these resources continue to be available. BPL is using several avenues of fundraising, including being the first public library to accept mobile text donations. In addition to online, in person, and mail-in donations, people can now contribute $10 quickly and directly to Brooklyn Public Library by texting BOOKS to 50555. All
donations will go to purchasing new materials.
On May 15, the library will host Love Your Library Day, a day packed with family events and a book sale to help reach the Support Our Shelves fundraising campaign goal. For more information on the event, click here.