Blue Man Group has taken its tongue-in-cheek techno passion to the next level with some awesome new additions to its long-running show at NYC's Astor Place Theatre. Get the scoop on the larger-than-life thrills in store for audience members young and old at this interactive experience the creators like to call "alternative Broadway."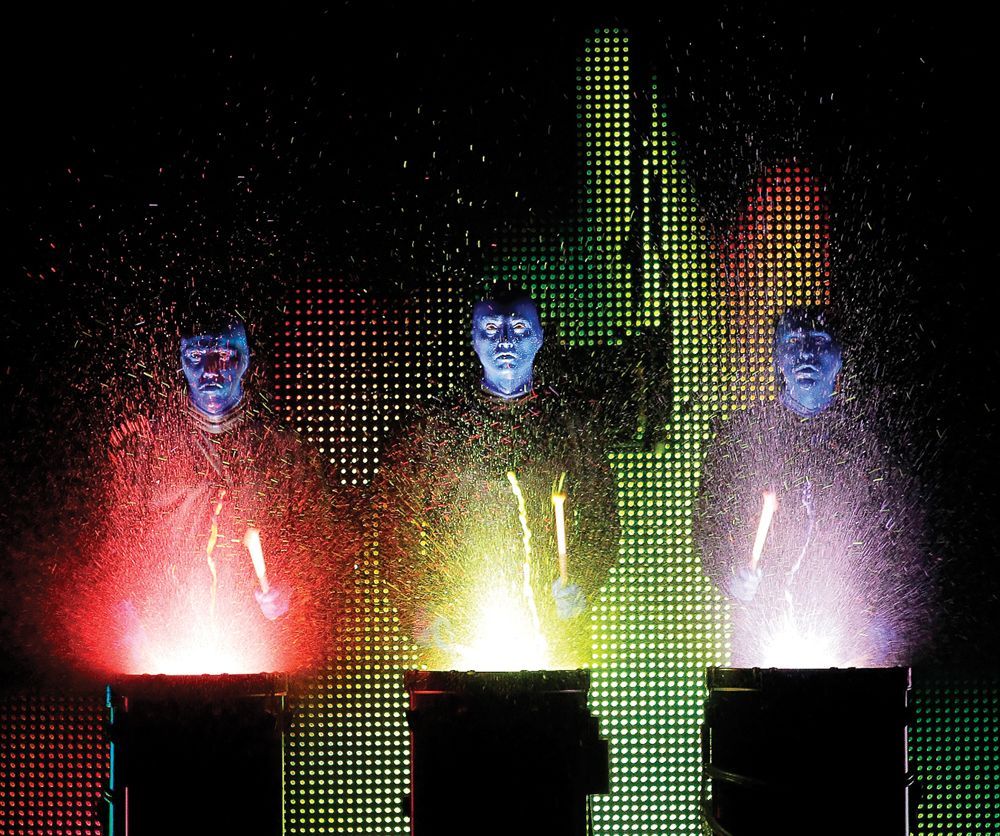 You've got your paint -- primary colors, natch -- in airborne splatter formation as the three members of the Blue Man Group pound away at their tempura-topped drums with gleeful abandon. I mean, c'mon, how liberating is that? Sure, the bang-the-paint-madly visual (see photo) has been one of the group's most spectacular images over two decades, but hey, it still knocks the socks off theatergoers, from cult followers to neophyte fans.
Which is not to say the show hasn't evolved since creators Chris Wink, Matt Goldman, and Phil Stanton launched their frenetic revisionist take on neo-Vaudeville in 1991 at the show's original (and present) NYC home base: downtown's Astor Place Theatre.
Back then, key elements involved fluorescent paint and black-light effects (still going strong), massive squirts of Silly String (retired), and thousands of feet of tubing snaking throughout the theater and house complemented by a mind-boggling collection of rubber tubes that descend from the ceiling during the performance (now and forever, one can only hope!).
And, no matter how cutting edge the show may become, there will always be plenty of Blue Man Group's splish-splashed, gloppy craziness building to an irresistibly chaotic grand finale -- marked by audience pandemonium and giggles triggered by the madcap unfurling of rolls of paper (recycled!) passed over small and tall heads from back of the house to the front. (For the record, my unofficial survey of kids ages 8-16 resulted in a five-star paper pulp review.)
At Home in NYC
Over the years, Blue Man Group's unflinching innovation has spread to other "permanent homes" of far greater capacity than its intimate Astor Place digs, including global tours that fill giant arenas and humongous amphitheaters.
Still, bonus points will always go to the Manhattan production's retro-cozy environment, where outspoken youngsters show no restraint when it comes to blurting out whatever pops into their heads -- more fun than you might imagine thanks to the show's dialogue-free status controlled by three deadpan pros who live for spontaneous improv. (At a recent Sunday matinee several outbursts from the peanut gallery involved the Group's frequent forays into fun foods -- marshmallow mouthfuls, an orgy of Cap'n Crunch cereal, and a dainty feast comprised of the endangered species known as Hostess Twinkies. ("Can I have one?" from the front row; "Me, me, me!" from several rows back; "I'm hungry," from an unidentified "somewhere.")
"Blue" Print: Cut to the Change
In 2011, Blue Man Group took its tongue-in-cheek techno passion to the next level. Yes, they revise and upgrade regularly, but this was the big one.
Suffice it to say that computer geeks, video gamers, and anyone ages 8 and up inclined to tweet, text, blog or commit app-i-cide must check out this latest edition.
"Many of our audience's favorite passages, including 'Paint Drumming' and 'Gum Balls/Marshmallows' will continue to be a part of the production," says co-founder Stanton. "And, yes, the first few rows still will need to wear ponchos. But we have developed some brand new elements of the show that provide a larger-than-life, rousing, interactive experience."
Adds Wink, "We've taken our most dynamic audience interactions and specifically put them in the venues with the most direct interaction with the Blue Men. We like to call it 'alternative Broadway' -- a synthesis of our intimate Off-Broadway roots with the spectacle we created for our larger shows."
Bottom line: Awesome new additions guarantee to tantalize even the most laidback pre- and post-teens.
"The heart of our show is, and always has been, the Blue Man and his inquisitive, wide-eyed take on the world," says Wink. "Our team of artists at Blue Man Productions has created fun, even astounding new visual aspects of the show, and our music team has given us a great new sound."
Countdown to Fun
Every week the Blue Men go through…
• 280 feet of hose for tubes that drop from the ceiling towards the end of the show
• 40 drum heads (approximately) used onstage and by band during the show
• 550 feet worth of PVC piping (PVC tubed instruments)
• 10 gallons of egg-based tempera paint
• 360 pounds of (inedible, sorry) Jello
• 15 pounds of Cap'n Crunch
• 100 cakes of blue makeup and 36 bald caps
• 75 loads of laundry
• 45 drumsticks (more or less)
• 30 boxes of Twinkie Lights
• 640 marshmallows (45 per show)
• 141 miles of paper (55 rolls per show)
…and believe it or not, it only takes nine amazing crew members to run the show, from wardrobe to props to video and sound).
Did you know Blue Man Group was nominated for a Grammy? Check out nine more things you may not know about the cobalt-colored trio.
Details on the Show
What: Blue Man Group
Where: Astor Place Theatre, 434 Lafayette Street
Ages: 8 and older; no children younger than 5 admitted
Tickets: 800-BLUEMAN (800-258-3626) or Ticketmaster at 800-982-2787; ticketmaster.com; and for groups of 15 or more, 212-260-8993
$85 for main floor and mezzanine; $99 premium seats in the center orchestra; $95 "poncho" seats for those who want to be close to the action in the first few rows; and $75 for select limited-view seats
More Info: blueman.com