Author Erin Bried weaves pearls of wisdom from our nation's grandmothers into a heartwarming guide that celebrates the simple things in life.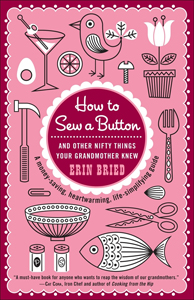 Erin Bried could be considered an expert on celebrities. As a senior staff writer at SELF Magazine, Bried has interviewed the likes of Taylor Swift, Beyoncé, and Jessica Alba, along with a list of other leading ladies who have graced the title's cover. But in her new book, which debuted in December, Bried spotlights a different class of superstar: grandmothers.
Bried's book, How to Sew a Button: And Other Nifty Things Your Grandmother Knew, is a "money-saving, heartwarming, life-simplifying guide" that features the stories and advice of grandmas, nanas, and bubbies from across the country. And while you may not know their names, each is a celebrity in her own right. "I think the nature of a celebrity is someone who should be celebrated," Bried says. "Beyoncé fits that definition, but so does Mildred Kalish, who's 88, and all of these amazing grandmothers who have never told their stories before."
Bried interviewed the Iowa-born Kalish and nine other women for her book, including 96-year-old Ruth Rowen who lives on the Upper West Side. When Rowen was growing up in the Bronx, she would often walk from her apartment building to the farmer's stand across the street to barter for an apple. Her family would plan their meals according to what was on sale each week, and they almost never threw anything away. Today, many would applaud Rowen's family for practicing a "green" lifestyle. Almost a century ago, though, there was another term for it: "common sense."
Rowen was born in 1914, when the Bronx was still mostly farmland, and grew up during the Great Depression. While the landscape may have changed quite a bit since then, the current economy has been looking-frighteningly-a bit too similar. The economic recession is one reason Rowen's stories and wisdom (such as "My money advice: Don't spend it. Hold on to as much as you can!") need to be heard by her grandchildren's generation, Bried says.
"Before I started writing this book, I had a romantic idea of what the Great Depression was," Bried says. She then heard stories from women like Elouise Bruce, 81, who grew up in Mississippi and had to pick cotton in the fields before school, alongside her eight siblings, just to help her family pay rent their rent. "It was a hard time, and to be able to get through it and remember what's important in life is heroic," Bried says.
And now that America is in another rough patch, Bried says, it's a fitting time for people to reassess their values and relearn the simple things in life. Bried presents the latter in a handy (and cheery), how-to format, broken into categories like Cooking, Cleaning, Dressing, Loving, and Entertaining. Readers will find instructions on things like how to bake a whole chicken, plant a vegetable garden, knit a scarf, love your body, read a bedtime story, make a budget, clean your house with baking soda and vinegar, and, of course, how to sew a button.
Ask Your Grandmother
Though her own grandmother passed away when she was in college, Bried grew to respect her even more while writing How to Sew a Button. "Like so many young people I used to think I knew better, but when I was writing this book I realized she had so much to teach me," Bried says. "As an adult, I aspire to live my life as she lived hers."
Writing the book was bittersweet, Bried says, because she asked her interviewees many of the questions she wishes she could have asked her own grandmother. "If you're lucky enough to have your grandmother around, ask her to tell you stories," Bried says. "Ask her about the big questions in life, like how do you make love last, or raise a good kid. Then ask her the little questions, like when's the first time she wore red lipstick."
Along the way, readers will also find pearls of wisdom from the ten grandmothers who've been through it all. "These women have the perspective of living their whole lives and dealing with the same issues we do, and they've found out what works. They really simplified things we think of as complicated," Bried says, adding that one of her favorite quotes in the book is "You have to be a friend to have a friend," by 94-year-old Beatrice Neidorf. Says Bried, "I thought, 'That makes perfect sense!'" In talking to Mildred Kalish about self-confidence, Bried found more wisdom. Kalish said she used to waste too much time and energy on her appearance. "Looking back, she realized she wasn't as ugly or as fat as she thought she was," Bried says. "I thought, 'If only every woman knew that!'"
Bried says she hopes her readers take from her book a few important lessons that she herself learned while writing it. "The biggest lesson I learned in writing this book was that being rich has nothing to do with our bank accounts, or the bags we carry, or the schools our children go to," Bried says. "It has everything to do with your resourcefulness and your ability to find joy in the good times and the bad times."
The second lesson, she says, is not to be afraid to try the activities outlined in her book. "I learned how to do many of these things for the first time," Bried says. "I wasn't perfect at all of them. I'm still not. I still can't really dance a waltz. But you have to have the confidence to give it a try."
One of the grandmothers she interviewed, 90-year-old Sue Westheimer Ransohoff, gave Bried a piece of advice she'll never forget: "She said, 'What a much better life it is when you can do things for yourself.' And I agree."
For more information on Bried and her book, visit www.howtosewabutton.com. Keep an eye out for Bried's next book, How to Build a Fire: And Other Handy Things Your Grandfather Knew, available in December.