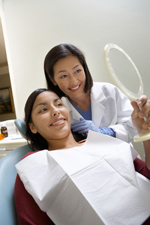 When asked about her braces, 12-year-old Jeninne Ware of the Bronx, who's had braces for about two years (they're coming off any day now!), stated decisively, "The best part about getting them was that it was painless - and I got to change the colors of my rubber bands every month." Jeninne's mom, Sharon Daniel, 49, who has also been wearing braces for about a year, might agree about the possible discomfort factor, but her main observation is decidedly different. She notes wryly, "I'll tell you one thing - if you want to lose weight, get braces. You'll eat a whole lot more slowly. It's a great way to get straight teeth, a good bite, and to drop a few pounds!"
Both mom and daughter are patients of Dr. Olga Bukholts, an Upper West Side orthodontist whose Perfect Smiles Orthodontics is perhaps typical of this metro area's practices in that the patient roster is divided ­- almost 50/50 - between young adults and grown-ups. "In an urban area like ours, the population skews differently and moreover, there is likely a greater sense of aesthetics and glamour," she observes. That translates into more adult patients, both first-timers and those seeking retreatment.
But braces still remain the domain of the adolescent, and Bukholts cautions that even children as young as 7 should have a checkup, although they won't start orthodontic treatment until later (after the 12-year molars emerge). "Children's teeth should be examined early, to determine if there is anything going on - bad habits, or the presence of a crossbite - where early intervention will prevent a potentially bad situation from developing, " she notes.
Early Orthodontics
While the desire for straight teeth easily dates back to the ancient Etruscans (you don't even want to know about the fascinating contrivances that were found on teeth among the mummified), it's fair to say that orthodontics as we know it today didn't really come into being until the mid-eighteenth century. (Here is a link to see some of the interesting contraptions used then: www.globalmednet.com/do-cdrom/Origins/traction/df001.htm) Some 100 years later, orthodontics was really put on the map by several dentists, one of whom was the improbably named Dr. Edward H. Angle, who was responsible for many firsts in the field.
According to the website www.archwired.com, even "x-rays were not routinely used in orthodontic treatment until the 1950s!" Dr. George J. Cisneros, professor and chairman of the department of orthodontics at the New York University College of Dentistry, notes that earlier orthodontists relied on x-rays as their most important diagnostic tool. Once armed with x-rays, they had to "take measurements, make trace drawings with rulers and protractors, cut and paste, all the while taking into account the structure of the face, hoping it would cooperate with the work planned. We had to figure out how to keep the teeth straight in the arches of the mouth, and determine whether surgery was necessary. We can now do all this with computers and digital tools."
Digital Advances and the Newest Materials
Dr. Margherita Santoro, Associate Professor of Orthodontics and the Director of the Post-Doctoral Program of Orthodontics, Columbia University School of Dental Medicine, underscores what the digital revolution means for orthodontics. "We can now keep all of our records, photos, and models in digital form, and traditional dental impressions are just not the norm any longer; we can use a miniature video camera, intra-orally. In the future even the impression will be completely transformed." But, she cautions, "Even with all these new tools, we cannot accelerate the turnover of bone and force Mother Nature to speed up the process. But we do have many new materials."
Older materials, used in the earliest part of the twentieth century, might have included gold, platinum, silver, steel, gum rubber, vulcanite - and even wacky things like wood (hello, George Washington) and ivory. Today, according to Dr. Robert James Bray, the President of the American Association of Orthodontists, "There are improvements in the actual materials we use, like the bands and the arch wires. Wires used to be stainless steel and we typically had to see patients every month to adjust them. Today, our wires are made from a space-age material, a flexible nickel-titanium, and they perform for a longer period of time, so we can see patients less frequently. Brackets are smaller today, too, and are more comfy...and they're available in colors, as well."
Dr. Bukholts also weighs in with another innovation, the mini-implant, made from titanium. "These are temporary devices," she comments, "that enable us to pinpoint and move one specific tooth; they can obviate the need for elaborate headgear that must be worn consistently, some 14 hours a day. Implants allow us targeted precision in our treatment plan and at the same time give the patient freedom from an apparatus."
Perhaps newest in the orthodontics' bag of tricks are Invisalign aligners, which had been available solely for adults previously; recently, the manufacturer, Align Technology, introduced Invisalign Teen. These aligners comprise a series of clear custom-made thermoplastic trays that look like tooth-whitening trays - perhaps 26 to 39 - that are each worn for a few weeks. Slowly they encourage a dental shift, moving teeth to the desired positions. Their most obvious advantage is that they do not require brackets bonded to the teeth. However, they must be worn all day/night (ideally 22 hours a day, save when the patient is eating) and they are priced a little higher than traditional braces. The key to success here is compliance, and to ensure that, Invisalign Teen aligners come with a little dot of blue vegetable dye in the trays that fades to clear after a certain number of hours of wear, so there is no fooling the orthodontist.
Regardless of what you choose, expect that "gizmology and the digital era will have an effect on your treatment plan and progress," as Dr. Cisneros puts it.
For more information, visit www.braces.org.
Practical Tips
Courtesy of Dr. Olga Bukholts, Clinical Associate Professor at NYU College of Dentistry
1. It's important to catch bad habits early. Many habits can negatively affect tooth alignment, such as tongue-thrusting, mouth-breathing, nail- and lip-biting, and pencil-chewing.
2. Bite problems may not always be apparent, and orthodontics can help stave off future conditions like tooth wear, periodontal disease, or temporomandibular joint problems.
3. Bite alignment is critical, as a poorly aligned bite can place stress on teeth and can lead to tooth wear, gum deterioration, and eventual tooth loss in adulthood.
4. Additionally, a severely misaligned bite can place unnecessary stress on the temporomandibular (jaw) joint, which could lead to its deterioration over time and produce a wide variety of symptoms like headaches.
5. Don't rush. Orthodontic appliances are not prescribed on the first appointment. An orthodontist needs to create and review a complete set of dental records and perform a comprehensive diagnostic evaluation. Treatment plans are always personalized; no two mouths are the same.
6. Digital imaging machines emit less radiation than x-ray machines that traditionally use film. The most modern machines produce panoramic, crystal clear images of the head/teeth/jaw.
Invisalign vs. Traditional Braces
Ted Davantzis, DDS, of Northern Plaza Dental Care in Bayside, Queens, has observed the demand for orthodontic care steadily increase over the past 20 years. "Children and adolescents are brought in for evaluation by parents who are seeking that perfect smile for their youngster," Dr. Davantzis says. For many of these parents, he notes, orthodontic care was not an option when they were young, due to lack of availability or financial considerations.
"When these parents inquire about Invisalign treatment, their eyes light up," says Dr. Davantzis. Invisalign treatment has become extremely popular with both adolescents and adults in the past few years, with some parents getting orthodontic treatment alongside their children. According to Dr. Davantzis, Invisalign has both advantages and disadvantages when compared to traditional braces:
Invisalign advantages:
1. No unsightly brackets or wires, so treatment proceeds unnoticed by others.
2. Removable aligners, which make it easier to brush teeth and keep a clean mouth.
3. Aligners are not worn while eating. "So if you're going out to dinner or to a special affair, keep them in their protective case and have a great time!" says Dr. Davantzis.
4. Fewer visits to the dental office, since the sequence of tooth movement is preprogrammed into each set of aligners. "Our patients love the fact that they only have to come in every four to six weeks," says Dr. Davantzis.
...and disadvantages:
1. Invisalign treatment can only begin after all permanent teeth have "erupted," or poked through the gums. Many younger patients need to start orthodontic treatment while they still have their "baby" teeth, says Dr. Davantzis, so Invisalign is not an option for them. "Their mouths are still growing and changing, and we need the flexibility of the brackets and wires to modify treatment as circumstances require."
Dr. Davantzis can be reached at 718-279-9700; [email protected]; www.nydentalcare.com.