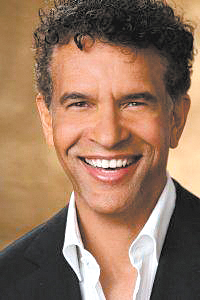 The Facts
At Work: Stage, screen, and television actor; celebrated vocalist; composer; writer; president of The Actors Fund since 2004
At Home: Manhattan. Father of one son, Ellington (6 years old); wife: Allyson Tucker, actress; family dog: Diggedy
His unforgettable baritone has filled major concert halls and theaters across the country, while his performing versatility has allowed him to cut a wide swath through numerous TV roles, starting with a seven-year stint (1979-1986) as Dr. Justin "Jackpot" Jackson on Trapper John, M.D. (More recently he's had memorable recurring roles on Frasier and Crossing Jordan.)
Still, for anyone with even a passing knowledge of the Broadway theater scene, Brian Stokes Mitchell will always be thought of as the ultimate contemporary leading man, whether his talents are set to music in shows like Ragtime (the original), Kiss Me Kate (2000 Best Actor Tony), and Man of La Mancha, or whether he gives himself over to powerful drama as he did as the title character in August Wilson's King Hedley II in 2001.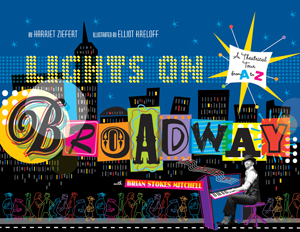 And then in 2009, Mitchell, father of a 6-year-old boy, expanded his creative wingspan by contributing-in both a literary and vocal sense-to the ingenious new book targeting middle school theater buffs Lights on Broadway: A Theatrical Tour from A to Z (hardcover with CD, published by Blue Apple Books).
Featuring text by award-winning author Harriet Ziefert (New Jersey grandmother of five who's penned over 200 children's books), and illustrated by designer/illustrator Elliot Kreloff, Lights on Broadway offers an irresistibly fun approach to all things theatrical, illuminating the fascinating nuts and bolts of showbiz with quotes from people like producer/director Hal Prince, composer John Kander, and actors like Ethel Merman and Matthew Broderick.
Mitchell fell under the book's spell the moment Ziefert approached him to contribute. "I immediately fell in love with the concept," says Mitchell who appears on the cover as Coalhouse Walker in Ragtime. He wrote both the introduction and postscript, and recorded the song about the joy of being on stage, I Was Here - which may well be the coolest book bonus ever. Mitchell had earlier sung the song, composed by Lynn Ahrens and Stephen Flaherty, with its original lyrics before it was rewritten specifically for the CD:
Here is the gift I pass on to my son,
As I put him to bed every night,
Tales of what I, and so many have done,
As we stood on the stage in the light...
Another element that sold Mitchell on the project is that a portion of the proceeds from the book are earmarked for the performing arts human services organization, The Actors Fund, of which he serves as president. www.actorsfund.org.
To order the book, go to www.chroniclebooks.com. At $19.99, this is the perfect gift for any youngster with an interest in theater.
Q & A with Brian Stokes Mitchell
Q. What is your favorite activity with your son?
BSM: We do so many things together, but what I find most fun is going out into the park searching for bugs. Ellington is all into bugs and science - he's all curiosity - the most curious child I've ever met. If you asked him, though, he would probably say playing with Legos. He loves to build spaceships, and they are quite outrageous.
Q. What is the most important lesson you try to impart to Ellington?
BSM: That life is wonderful and fascinating in all its diversity. My wife and I also make it clear that the one word that's traife [taboo] in our house is "bored." We want him to know that if you think you're bored, you're just not looking in the right place. You can always find something interesting - looking out the window, or at your own fingerprints...or at bugs.
Q. Who was your greatest child-raising influence, and why?
BSM: Both of my parents, but for different reasons. [Mitchell, whose dad was a radio officer and a photographer, spent most of his early childhood overseas in Guam and the Philippines.] My father, who had had a tough childhood and didn't want us to repeat what he'd gone through, was sometimes away for months at a time, leaving my mother home to raise three boys. But when he was home, he was a typical 1950s father, and he shared his travel experiences with us through photographs and slide shows, which were wonderful. It was my mother who taught me grace and fortitude. Thanks to them, I had a great childhood. I do some things differently from my father, but that's the way it should be. Life is a constant evolution, including what your parents pass down. So you take the best and make changes as you go along.
Q. What is your approach to discipline?
BSM: We rarely have to discipline Ellington, but when we do, we mostly do time-outs. Ellington's an incredibly social kid, so this usually works pretty well. One thing we have learned, though, is that if we take the time to explain our actions, he's okay with it. His frustration comes from not knowing why we're doing what we're doing.
Q. What was a memorable family outing?
BSM: It's hard to pick one because we've done so many amazing things together, and because we've traveled with our son since he was born. Everything we do is fun. Early this year we took a trip to Washington, D.C., for a birthday party President Obama threw for Ted Kennedy at the Kennedy Center. That was pretty exciting, even if Ellington won't really be able to appreciate the entire experience until he's older. He did spend a lot of time with Senator Kennedy, though, who gave him a signed copy of Billy Whiskers, Ted and his brother John's favorite book when they were growing up.