In Broadway's Tony Award-winning 'Peter and the Starcatcher,' we learn how Peter Pan earned his flight credentials and how a mustachioed pirate became Captain Hook. Is the show for kids? Yes and no, says our theater critic.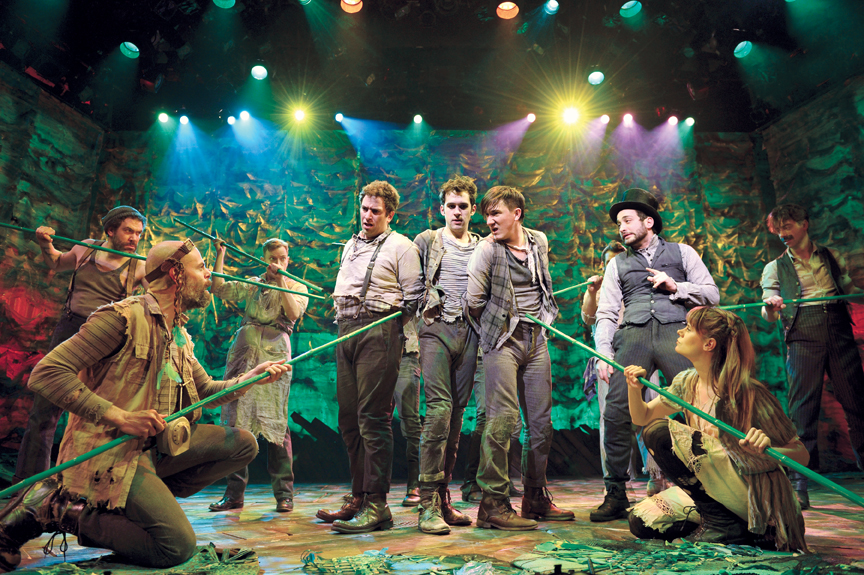 Literate, eccentric, anachronistic, silly—in short, a celebration of endless verbal and physical shenanigans—Peter and the Starcatcher is one of the smartest theatrical anomalies to ever reach Broadway. And that's not just my opinion: This unprecedented play, backed by a jaunty score, picked up five Tony Awards for the 2011-2012 season, second only to the musical Once (which netted eight). But Once is a grown-up romance between two musicians based on a film, while Peter and the Starcatcher is a deliriously convoluted prequel to the famous children's story by J.M. Barrie, Peter Pan, based on Dave Barry and Ridley Pearson's novel Peter and the Starcatchers of the same name (note the dropping of the "s" in this version: On stage, there's only one starcatcher, a girl named Molly). See our full comparison chart.
Is the show for kids?
But is the show's target audience really children? Really, really? Yes and no.
My personal (somewhat vague but not entirely useless) assessment regarding the uniqueness of this production and its appropriateness for children: It depends on the child, or children, in question.
Yes, Peter and the Starcatcher is a fantasy stocked with 13-year-olds (played by adults), good guys, bad guys, exploits at sea, mermaids, islanders called Mollusks, "starstuff," and a band of pitiful pirates—but it is also a parade of linguistic twists and turns and cultural references that could easily soar over the heads of youngsters whose wordplay gene has yet to come into its own.
Yet kids who get it love, love, LOVE it—especially the second act in which playwright Rick Elice and directors Roger Rees and Alex Timbers get down to the business of tying the characters to the original storybook via any number of ingenious plot turns, scenic devices, and costume changes.
"When I was a boy, I wished I could fly, and the notion of being a boy forever was pure delight," Elice says. "No homework, no chores, no responsibility, no sorrow. Now that I'm in the middle of my life, I understand what I'd have missed had I never grown up, or fallen in love, or stood my ground, or lost a battle—or written a play."
Tellingly, he adds, "I wanted to write a play about that, with adult language and adult challenges."
Beyond the Performance
Scanning the audience at the Brooks Atkinson Theatre one Wednesday evening in May, it was clear that the kid faction sprinkled throughout (predominantly ages 8 through teens), were perfectly up to the "challenges" playing out before them. And while prudence would dictate that 5- or 6-year-olds (with the exception of junior Tim Burtons) would be baffled if not bored, teachers (middle school being the key demographic here) are determined to share Peter and the Starcatcher with their students before it ends its run on Sept. 30.
The show's website has a wonderfully detailed Educator's Guide packed with all sorts of downloadable/printable goodies, including background data, a Peter Pan timeline, and lots of interesting lesson plans, many of which are ripe for adapting for parent-child one-on-ones.
"This new play about our hero of old, this boy Peter, resonates with us all," Elice says. "I see the characters emerging out of our island, our Neverland. Wendy has not yet appeared. Instead, we have Molly, our hero, in a time before girls were encouraged to be heroes… [and] we have a feral creature, bent low from incessant beating, afraid of his own shadow—the nameless boy at the center of our story. How ironic that he learns what it is to be a man over the course of our play, when he's destined to stay a boy forever."
Bringing a Wondrous Story to Life
The cast of Peter and the Starcatcher is a versatile collection of performers who have no trouble morphing from narrator to ensemble to the roles it seems they were born to play. Celia Keenan-Bolger is everything you'd want Molly to be: athletic, smart, courageous, and set adrift on the rickety Neverland with her nanny, Mrs. Bumbrake (Arnie Burton embodying the essence of femininity without raising his voice an octave), along with a cargo trunk bearing a precious mystery, three lost boys, and a motley crew that becomes even motlier once the ship is overrun by dastardly pirates led by Black Stache and his boon flunky, Smee (a wonderfully disgusting Kevin Del Aguila).
Suffice it to say that Christian Borle, who picked up a Tony for his hilarious portrayal of Black Stache, has raised the bar for deadpan slapstick on any stage anywhere. Having left the show last month to film the new season of TV's Smash, he's replaced by another actor gifted in the rough and tumble comedy arts—Matthew Saldivar (The Wedding Singer; Grease)—who has sidled up to the bar and then some as he struts, sneers, falls over scenery, and frolics in a lagoon wearing a bathing cap and kitchen gadgets.
Adam Chanler-Berat plays the boy who, once the play shifts from ships to island, becomes Peter Pan—a raw version, to be sure, as he follows Molly's lead, meets up with a sage mermaid, and encounters Fighting Prawn (Teddy Bergman), the king of the islanders known as Mollusks who hold dominion over Mister Grin, a ferocious crocodile.
The production is another matter altogether, filled with the sort of unexpected surprises that have an innate appeal to kids who don't have a problem thinking outside the box which, in the case of the Rees and Timbers' innovative mind meld, would probably be constructed out of a single piece of rope. In staging this show, for example, the two ships that set sail from England in the opening moments, the WASP and the Neverland, are represented by actors carrying model boats and later, when the heroine "takes flight," she's simply perched on a ladder. In their world a bird is a rubber yellow glove and words (or lyrics) fill in a variety of visual blanks. It's a lovely, simple, and enchanting universe…a far cry from the costly riggings and techno-wizardry of other Broadway shows, but a sweet reminder of how our imaginations ushered us through our own childhoods—and how we hope they'll do the same for our little (and not so little) ones.
From Printed Page to Broadway Stage
| | | |
| --- | --- | --- |
| The Play | The Storybook | The Crossover |
| Boy | Peter Pan | Boy becomes Peter in the last scene of Act I; "Pan" is added in Act II |
| Black Stache | Captain Hook | Implied vs. stated outright following events in Act II, Scene 10 |
| Fairy dust | Starstuff | More or less: "starstuff" comes across as more powerful and certainly more controversial |
| Mister Grin | Crocodile | But sometimes just "crocodile" |
| Smee | Smee | Stache/Hook's henchman is the play's ONLY crossover character by name |
| Molly | Wendy precursor | Molly & Wendy's relationship is revealed late in the play |
| Mrs. Bumbrake | Nana precursor | Nana was the dog nanny in the book; Bumbrake is Molly's (human!) nanny |
| Little LIGHT | Tinker Bell | Okay, the light is accompanied by a bell sound |
| Neverland | Peter names the island "Neverland" | Ship on which Boy, first two Lost Boys, Molly, and Bumbrake sail to Island |
2012 Tony Awards for Peter and the Starcatcher
• Best Performance by an Actor in a Featured Role in a Play: Christian Borle
• Best Sound Design of a Play: Darron L. West
• Best Costume Design of a Play: Paloma Young
• Best Scenic Design of a Play: Donyale Werle
• Best Lighting Design of a Play: Jeff Croiter
The Details
What: Peter and the Starcatcher
Where: Broadway's Brooks Atkinson Theatre, 256 W. 47th St., between Broadway and Eighth Avenue
When: Monday-Thursday at 7pm; Friday and Saturday at 8pm; Wednesday and Saturday at 2pm (call or visit website for variations in playing schedule). Through Sept. 30.
Who: Parent discretion for young theatregoers (no one younger than 4 is admitted); 8 and older seems a pretty safe basic age range.
Running Time: 2½ hours with one intermission
Tickets: $59 and up. By phone: 877-250-2929. Online: ticketmaster.com. Lottery: 2 hours before every performance, patrons are invited to participate in a lottery—open to the general public—that takes place outside the Brooks Atkinson Theatre. The official drawing happens an hour and a half prior to curtain. Each winner may purchase up to two tickets for that day's performance for $27 each (cash only).
Website: Featuring Starcatcher merchandise, cast and creative bios, Educator's Guide, videos, celebrity sound bites and a totally cool "Starstuff" video game where players catch stars (and extra minutes) in a trunk replica of the ones seen in the show: peterandthestarcatcher.com