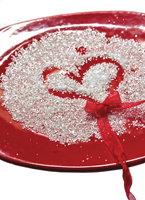 Do-It-Yourself Valentines
Kids and teens looking to forego store-bought Valentine's Day cards and add a more personal touch (or simply save some money!) can check out these free workshops offered this month.
• Valentine Card-Making for a Cause
All ages can join a crew of volunteers in making Victorian valentines for local nursing home residents. FREE (card-making kits can also be purchased for personal use). February 6, 1-3pm. Historic Richmond Town, 441 Clarke Avenue, Staten Island. 718-351-1611. www.historicrichmondtown.org.
• At the Libraries
"Valentine's Day Arts & Crafts for Teens:" February 8 at 4pm; Mill Basin Library, 2385 Ralph Avenue, 718-241-3973. February 11 at 3:45pm; Kensington Library, 410 Ditmas Avenue, 718-435-9431. February 12 at 3pm; Gerritsen Beach Library, 2808 Gerritsen Avenue, 718-368-1435.
"Valentine's Day Arts & Crafts for Kids:" February 9 at 4pm; Homecrest Library, 2525 Coney Island Avenue, 718-382-5924.
For more information: www.brooklynpubliclibrary.org.
Story Time with Your Lovebugs
Kiddies can listen to a reading of The Legend of Lyla the Lovesick Ladybug at Barnes & Noble in Park Slope on February 6 at 11am. Story time will be followed by Valentine's Day-themed activities. Ages: TOD, YE. FREE. 267 7th Avenue. 718-832-9066. www.bn.com.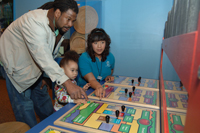 Celebrate Black History Month
To honor the heritage, culture, and traditions of Africans and African-Americans in commemoration of Black History Month, several nearby locations are offering special programs.
At the Brooklyn Museum, February's Target First Saturday, a free evening of art and entertainment for families, will celebrate black history, Mardi Gras, and the African diaspora in New Orleans style. Highlights include a jazz and hip-hop concert, a youth theater program by Impact Repertory Theatre, and a Mardi Gras-themed dance party hosted by DJ Ian Friday. February 6, 5-11pm. All ages. FREE. Brooklyn Museum, 200 Eastern Parkway. 718-638-5000. www.brooklynmuseum.org.
The Brooklyn Children's Museum will host Celebrate Black History: Heritage, Culture and Traditions through the month of February. There will be cultural storytelling, movies, and programs that explore African heritage and the contributions of African and African-American leaders. 11am-5pm Wednesday-Friday, 10am-5pm Saturday and Sunday; open extended hours (10am-5pm) February 13-21. All ages. $7.50; FREE children under 1. 145 Brooklyn Avenue at St. Marks Avenue. 718-735-4400. www.brooklynkids.org.
The Brooklyn Public Library offers several activities in the spirit of Black History Month. These include a Black History Month Reading Circle for kids at Spring Creek Library on February 16, and an Africa-Atlantic Genealogical Society Workshop for adults at Macon Library on February 27, where you can trace your family tree with help from the newly chartered African-Atlantic Genealogical Society. For more information and events, visit www.brooklynpubliclibrary.org.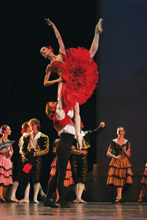 A Story of Chivalry and Colorful Characters
As part of Israel Ballet's first U.S. tour in 25 years, this company of 35 dancers will perform Don Quixote at the Brooklyn Center for the Performing Arts. Set against a video-enhanced backdrop to add an extra layer of energy and color to the retelling of this classic story, the performance features choreography by Marius Petipa and music by Ludwig Minkus. Part of Brooklyn College's 2009-2010 World Stages: Dance series, the ballet is based on an episode taken from the famous novel Don Quixote de la Mancha by Miguel de Cervantes. It tells the tale of a knight errant, accompanied by his loyal squire, who, armed with a failing mind and a shaving basin, battles windmills and imaginary monsters as he searches for glory and the lady of his dreams. February 21 at 2pm. All ages. $20, $30. Brooklyn Center for the Performing Arts at Brooklyn College, Walt Whitman Theatre, 2900 Campus Road. For more information or to order tickets: 718-951-4500 or www.brooklyncenteronline.org.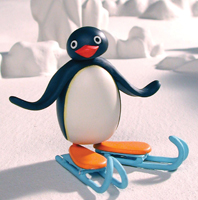 Pingu the Penguin on the Big Screen
Big Movies for Little Kids sponsors a screening of Pingu, a selection of some of the funniest and best episodes starring the cheeky, charming animated penguin who always manages to get himself into comical mischief. Rated G. February 22 at 4pm. For ages 2 and up. $6.50. Cobble Hill Cinemas, 265 Court Street at Butler Street. Contact the cinema for advance tickets. For more information, call 718-596-9113 or visit www.bigmoviesforlittlekids.blogspot.com.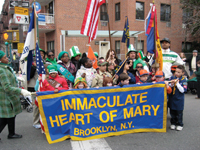 Help Out the Scouts
The Brooklyn Cub Pack & Scout Troop 187 will host A Night of Magic with Cardone the Magician this month, part of a series of monthly community outreach events the troop is presenting through April to raise money for the Scouts program and to help rebuild the kitchen at Immaculate Heart of Mary School. The show will be held in the gym of the Immaculate Heart of Mary School, and will include magic, ventriloquism, illusion, escape artistry, mind-reading, humor, pantomime, and audience participation. Also available will be a children's playspace downstairs in the cafeteria, a room for reading and quiet time, and a babysitting room for children under the age of 5. The evening features a merchant showcase with local retailers, service providers, artisans, and crafters, as well as a raffle with prizes donated by local merchants. Refreshments will be available. February 26 at 7pm. All ages. $10; FREE children under 5. Immaculate Heart of Mary School, 3002 Fort Hamilton Parkway at East 3rd Street. To order tickets, call 212-937-7911 or visit www.brooklynscounts.com. For more information on this and future events in the series, contact Leonard Shostak at 212-937-7911 or [email protected]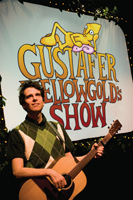 The Little Guy from the Sun Comes Home
Created by illustrator and songwriter Morgan Taylor, Gustafer Yellowgold's Show comes home to Brooklyn. The show is equal parts pop-rock concert and animated movie, and is an overall multimedia musical concert experience featuring a world of catchy and original story-songs about Gustafer (a friendly creature who came to Earth from the sun), performed alongside a large screen displaying vividly colored animations with karaoke-style subtitles. Popular musician and music educator Jonathan Samson will open the show.
Gustafer lives out an explorer's life in a slightly psychedelic version of the Minnesota woods, where he resides in a cottage with his menagerie of friends, including a pet eel, a tuxedo-wearing pterodactyl, and a dragon named Asparagus who inhabits the fireplace and loves corn on the cob. For recreation, Gustafer enjoys jumping on cake.
Sponsored by Park Slope Parents. Arts and crafts will be provided by ArtsCetera. February 28 at 2pm. $10. All ages. The Bell House, 149 7th Street. 718-643-6510; www.thebellhouseny.com.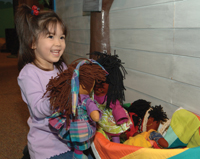 Gullah Island's Fullah Tales
Discover the exciting history, songs, stories, and customs given to America by the Gullah people. In the exhibit Tales from the Land of Gullah, learn about the West African slaves isolated on the islands off the Georgia and South Carolina coast who kept hold of their cultural traditions and incorporated them into their daily lives while working on plantations. Find out how the Gullah influenced American culture through common nursery rhymes like "Michael, Row Your Boat Ashore." Kids can also learn how the Gullahs tell time, experience net fishing with a Gullah fisherman, and even cook a traditional Gullah meal. Through May 2. $7.50, FREE for children under 1 year. Brooklyn Children's Museum, 145 Brooklyn Avenue at St. Marks Avenue. For more information: 718-735-4400 or www.brooklynkids.org.