Last year, when Nicole Mastrell's youngest child, 5-year-old Oscar, started kindergarten, the Ossining mom began contemplating returning to work. But with three young children (Oscar's siblings are Magnus, 9, and Sophia, 7), a full-time position wasn't an acceptable option. Instead, NunoOrganic.com was born.
Mastrell and her family moved to Westchester from outside of Copenhagen, Denmark in 2000, when her husband, Johan, accepted a job at Pfizer's Manhattan headquarters. "I had been working full-time in chemical engineering sales," Mastrell recalls. "I traveled a lot and was very busy. I saw the move as an opportunity to take some time off to be with the children."
Which she did. But soon she was brainstorming with Anni Vedel, a friend she'd met in a parenting class back in Copenhagen, who'd developed a line of organic baby products called Nuno, and had later opened Denmark's largest organic children's products store. In 2004, the two formed a partnership to sell the Nuno line on the Web.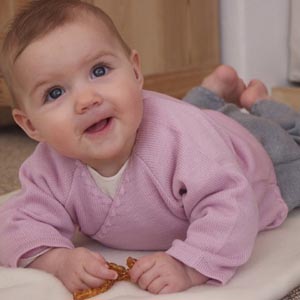 NunoOrganic.com offers toys, clothing and accessories for babies and toddlers. There are dolls and teddy bears, puzzles and games, arts & crafts supplies, even a puppet theater, all made from organic materials. In the clothes department, there are layettes, socks and underwear, hats and bonnets, as well as tops, bottoms and dresses in cotton, linen and wool. The company also sells bedding and bath products. All are imported from Europe and are, of course, 100 percent certified organic.
Because there is no certification for organic clothing and toys in the U.S., NunoOrganic.com's line fulfills the European Union standards for organic certification. Fabrics include KbA-certified cotton, grown without the use of fertilizers and pesticides; Bourette silk created by the mulberry silkworm; and Schur and Merino wools. Many of the toys are crafted from wood. Naturally, Mastrell's children have used them all.
According to Mastrell, her family is committed to organic living. "At home, we focus on eating healthy and high quality foods," she says, adding that she does most of her grocery shopping at Whole Foods, Mrs. Green's, and the organic aisles of the local supermarkets. On weekends, depending on the season, the Mastrells might be found hiking, skiing, or kayaking on the Hudson. "Westchester is a wonderful place," Mastrell says, "being so close to nature and also to all the culture of the city. We feel lucky to live here."
Mastrell also appreciates Ossining's diversity. "My kids come home and tell me there are students in their classes speaking 10 different languages," she says. "We try to find all their countries on the map."
From her perch, Mastrell has a good perspective on the difference between the United States and Scandinavia when it comes to organic buying. "In Scandinavia," she says, "everyone is a possible customer. Here in the U.S., it's not as widely accepted." She describes her American customers as "trendsetters — career moms, yoga moms — those who are more forward-thinking," and says many of NunoOrganic.com clients are from California, the Northeast, and especially, New York. But while a local storefront is a future possibility, for now, Mastrell says, the website is ideal: "We enjoy having all of the country as our customers."
"Nuno" is an Inuit word that means "baby" in Greenland, Alaska and Canada. It has the connotation of "the little sweet one" or "the little lovely one". "In that very cold climate," Mastrell explains, "'nuno' represents the warm feelings that the Inuits and we all have for our little ones."
For further information: www.NunoOrganic.com or (914) 762-6159.