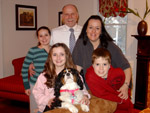 With three young children, Michelle Violetto, of Tappan, was shuttling her kids to birthday party after birthday party when she realized, "I could make a business out of this!"  Speaking to other busy moms, Michelle realized that although many of them didn't have the time or energy to plan and host parties in their homes, there wasn't a place dedicated solely to kids birthday parties where everything would be taken care of.  So in 2002, Michelle and her business partner (who has since resigned) opened Little Scoops, a 1950's retro-style party venue and ice cream parlor in Blauvelt.  Within the first month of their grand opening, Little Scoops was a hit, hosting 23 parties and becoming "the" place for kids' birthdays.

   Just two short years later, Little Scoops became a franchise, eventually opening additional locations in New York, New Jersey, Oregon, and Florida, and in 2005, was named a "Hot New Franchise" by Entrepreneur magazine.


   Michelle knew early on that she enjoyed working with children. After graduating from college and working in advertising, she became a certified elementary school teacher. "I loved the kids," she recalls, "but teaching was too structured." 

   After taking some time off while having her children — Amanda, 11, Julianna, 10, and Nicholas, 8, the entrepreneurial fever started to grab at her. Michelle sought the help of SCORE small business counselors and conducted informal focus groups with other moms in the community. When asked about birthday party venues, they passionately responded, "Yes, we need something like that!"

   Although she had been contemplating the idea for Little Scoops for a while, it wasn't until the tragic events of September 11th occurred that everything changed. Michelle, whose husband, Bryan, was a New York City fire captain at the time, realized that she could have lost him just as they had lost friends. Michelle thought, "I wanted to be a mentor for my daughters. It was now or never."  

   With fond childhood memories of old-fashioned ice cream parlors like Farrell's in Staten Island, Michelle knew that Little Scoops could create the same memories for children in Rockland.  "I wanted it to be a place they could call their own," she says.  

   Seven years later, Little Scoops continues to be the place to host a birthday party or make your own sundae in a fun, relaxed atmosphere where kids and parents alike are treated like members of Michelle's family. "I used to think what made us unique was the look of the space, but now I know that it really has to do with the exceptional customer service we provide."  

   Little Scoops prides itself on working with parents to customize birthday parties with their children's specific interests in mind, and handling every last detail from set-up to cleanup, food, games, music, goody bags, and everything in between.  As Little Scoops looks to expand and grow its brand, Michelle hopes to offer more kids classes and events, and ultimately open more locations. 

   Michelle is grateful for her success and considers herself lucky to give back to the community. Donating money to breast cancer research and organizations like the McHugh Foundation, People to People International, and Hoops for Hope, Little Scoops also hosts fundraising events for community groups.    
   For more information, call 845-365-4500 or visit www.littlescoops.com.