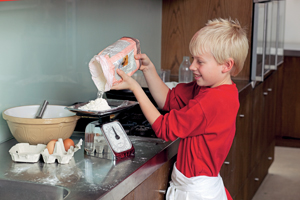 What better way to start a sunny Sunday morning than with a mile-high stack of pancakes? Wake the kids early and let them get messy in the kitchen helping you prepare a tasty breakfast for the whole family. There's enough to go around for everyone (recipe makes 16-18 pancakes).
The recipe below is written for your kids (up to age 10) -- so snap on an apron and assume your role as sous-chef.
Serve with a good glug of maple syrup and slices of crispy bacon.
Buttermilk Pancakes
1¾ cups all-purpose flour
3 teaspoons baking powder
½ teaspoon salt
4 tablespoons sugar
3 tablespoons unsalted butter, plus extra for frying
½ cup milk
½ cup buttermilk
2 medium eggs, lightly beaten
1 teaspoon pure vanilla extract
maple syrup, to serve
crispy cooked bacon slices, to serve (optional)
Makes 16-18 pancakes.
1. Set a large strainer over a large mixing bowl. Tip the flour, baking powder, salt, and sugar into the strainer and sift into the bowl. Make a well in the center.
2. Ask an adult to help you melt the butter in a small saucepan over low heat or in the microwave on a low setting.
3. Put the milk, buttermilk, eggs, melted butter, and vanilla extract in a bowl and whisk with a balloon whisk. Pour into the dry ingredients in the mixing bowl and whisk until the batter is smooth.
4. Put a pat of butter in a large, heavy skillet. Ask an adult to help you set it over medium heat. Allow the butter to melt, swirling it so that it coats the bottom of the skillet evenly.
5. Drop 4 tablespoons of the batter into the hot skillet and cook for about 1 minute, or until bubbles start to appear on the surface. Using a spatula, flip the pancake over and cook the other side until the pancake is golden and well risen. Remove the pancake from the skillet and keep it warm on a plate covered with aluminum foil.
6. Repeat with the remaining batter.
7. Serve the pancakes with crispy bacon, if you like, and a drizzle of maple syrup.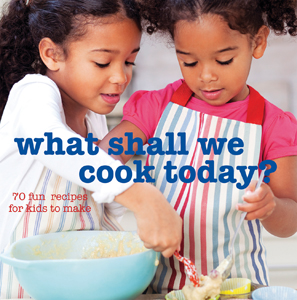 Recipe courtesy of What Shall We Cook Today? More than 70 Fun Recipes for Kids to Make (Ryland Peters & Small) by Linda Collister, Liz Franklin, Amanda Grant, and Annie Rigg ($19.95; www.rylandpeters.com)