Linda Grant, a single mom living in New York City, reminisces about family trips to the Christmas tree farm during her suburban childhood and explains how she carries on that tradition with her daughter, even though they live in the city.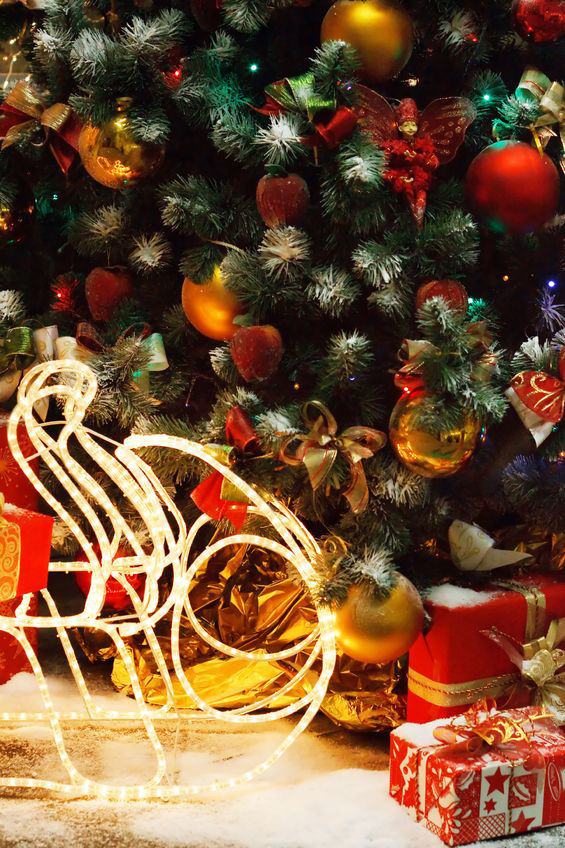 When I was growing up, picking out a Christmas tree was one of my family's many holiday rituals. The Saturday after Thanksgiving, we all piled into our Volvo station wagon and headed to the Christmas tree farm. We chose that day because my dad was adamant about getting his money's worth and having the tree up as long as possible.
Part of the fun and family bonding was wandering around looking at different sizes of trees and debating which tree would look best in our living room. Was it too small, too big, too expensive? Afterwards, we would head home, put on Christmas tunes (music from A Charlie Brown Christmas was a favorite), make hot chocolate, and decorate the tree and house.
Because it's just my daughter and me, I have tried to maintain some of the Christmas rituals I experienced growing up, especially picking out the tree. It's extremely important, even though we don't have family in the area, that she can look back on fun and memorable Christmas moments from her childhood -- though they may not be the traditional suburban memories I have.
There are no Christmas tree farms in New York City, but there are plenty of places throughout the city in which Christmas tree stands pop up, from the local deli to the farmers market to the yearly stand near my daughter's school. There are plenty to choose from around our apartment, and we wander these stands just like I wandered those farms as a kid. We still have fun picking out trees and discussing which one is best for our one-bedroom apartment.
But the question you're asking is, how do we get a big old Christmas tree home without a car? Most New Yorkers would opt for delivery, but frankly, that's no fun. And given the price of Christmas trees in the city, which can cost you $60 and up (and that's for a small tree), you add on the delivery fee and a tip and yikes! that's one expensive tree.
While we don't pile in the family station wagon, we opt for what I call our New York car, "the granny cart." It might not be pretty, and we may not look very cool pushing it down the street, but it works as a mode of transportation to bring our Christmas tree home. And just like when I was kid, we cap the day off by decorating the tree, listening to Christmas songs, and drinking hot chocolate.
Here's to a fun holiday season!
Linda Grant is the editor of www.nycsinglemom.com, where she writes about her adventures raising her adopted daughter in downtown New York City. Follow her on Twitter (@NYCSingleMom), and don't miss Therapy Thursday, when Linda discusses challenges all parents face. Check out her holiday gift ideas at www.holidayproductguide.com.
Also see: NYMetroParents' Holiday Bazaar of Traditions, Memories, Insights, and Gifts