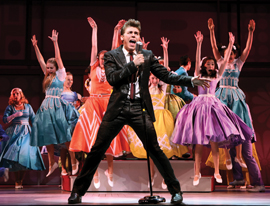 Sweet Apple, Ohio, 1960: The fictional epicenter of all things Americana at a time when wholesome idealism still had chops and the only techno savvy teens were the audio-visual club nerds wheeling slide projectors from classroom to classroom.
In this retro universe - decades before cell phones spelled untold hours of speed-dialing and texting - kid networking was reserved to land lines at home (with, get this, cords!) and phone booths.
And voila! - in a stroke of designer/directorial genius, a primary-colored, movable feast of phone booths became the means to introduce the youth of Sweet Apple to audiences in the Broadway revival of Bye Bye Birdie.
The number is "The Telephone Hour"- a staccato homage to teen chitchat that somehow doesn't seem all that dated despite lyrics like: "What's the story, morning glory? What's the tale, nightingale?" - probably because the song has to do the new "steady" status of Hugo Peabody (Matt Doyle) and Kim MacAfee (Allie Trimm) proving that relationship gossip among teens is a given right in every generation.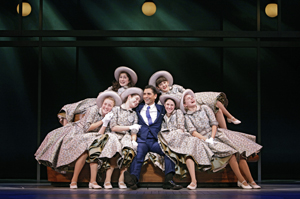 As with other musicals written in and for an erstwhile era (Hair and West Side Story come to mind), Birdie is apt to trigger plenty more contemporary comparisons. Parents still complain about the music their kids listen to; teenagers still go nuts at the sight of their favorite rock stars; and any mention of "the draft" or "war" will automatically draw parallels during a period of deployed troops.
But I'm getting ahead of myself here. Not everyone's familiar with Birdie's plot or characters - despite the probability that close to every middle school, high school and community theater has mounted a production in the near half-century the show has been around.
The storyline follows rock 'n' roll idol Conrad Birdie (Nolan Gerard Funk) -whose manager (Albert Peterson, played by John Stamos) and Peterson's long suffering secretary/girlfriend (Rose Alvarez, played by Gina Gershon) come up with a publicity scheme to maximize Conrad's recent call to duty by Uncle Sam. Birdie may be going into the army, but not before receiving "One Last Kiss" from a starry-eyed fan on The Ed Sullivan Show.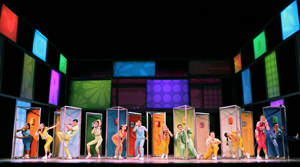 The girl who wins the honor is newly pinned Kim, whose personal life and hometown are turned upside down by the arrival of Birdie, Albert and Rose. And, naturally, there are persnickety parents to contend with - Kim's dad, Harry MacAfee (Bill Irwin), in particular, who finds himself both smitten by the idea of coast-to-coast glory and appalled at the way show biz liberalism is discombobulating his tranquil suburban existence.
Also treading water in the deep end of the parental pool is Albert's dominating mother, Mae (Jane Houdyshell), out to squelch her son's engagement to feisty Latina, Rose. And while only a few changes have been made to the original script (book by Michael Stewart, music by Charles Strouse, lyrics by Lee Adams) - including revamping a musical number to allow Doyle's Hugo to show off his vocal prowess - there is much to be said re: the groundbreaking nature of this revival, starting with the theater itself.
Birdie marks the ina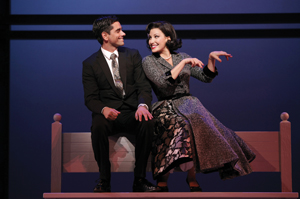 ugural production of Broadway's new 1,055-seat Henry Miller's Theatre inside the new 55-story Bank of America Tower. The only new Broadway house built in over a decade, this striking structure sits behind the preserved and restored neo-Georgian façade of the original 1918 theatre.
This Birdie holds the further distinction of being the first Broadway revival of the 1961 Tony-winning musical since its debut - with Dick Van Dyke and Chita Rivera - on April 14, 1960. And while the original cast overflowed with big-name performers of the likes of Paul Lynde and Kay Medford, they have nothing on the big-name stars and Broadway veterans who are filling the lead roles this time around, including Gina Gershon, whose last Broadway venture involved playing a sexy Italian flight attendant in the hit farce Boeing Boeing.
"Birdie is definitely a time-capsule piece," says Gershon, who played the same role once before - in junior high school. "It was the very first musical I was ever cast in, and I wanted to play Conrad Birdie. But they gave me Rosie."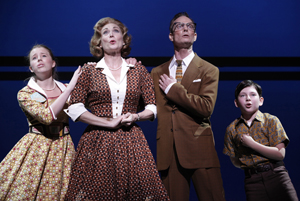 At the time, Gershon, whose rebellious teen years were just taking shape, would have had a great time embodying Conrad Birdie (an Elvis knock-off whose name was inspired by country singer Conway Twitty), but in her current incarnation as Rosie on Broadway, she's clearly in her show-stopping element - especially when she launches into her sizzling "Spanish Rose" number.
Still, it's the kids in Birdie that have impressed the versatile Gershon. "They're all actual 15- and 16-year olds who look like they're 12. They really cute and innocent looking - which is really nice to see," she observed after watching them in an early rehearsal of "Telephone Hour".
And she's so right. Unlike in the 1963 film version, where a 22-year old Ann-Margret played Kim (and jump-started her sex-kitten career), these kids are kids - super-talented kids with amazing careers ahead of them - but most definitely adolescents playing star-struck teeny-boppers - and their male counterparts - to perfection.
The adults aren't bad either.
In short, this new mounting of a musical comedy classic lives up to the upbeat lyrics:
"Oh, Life's a ball
If only you know it
And it's all just waiting for you...
You're alive,
So come on and show it...
We've got a lot of livin' to do!"
BIRDIE BASICS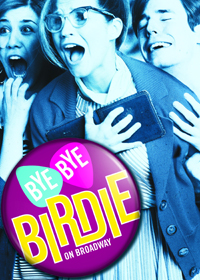 Roundabout Theatre Company's revival of Bye Bye Birdie began previews on September 10 and officially opened on Broadway October 15 at the new Henry Miller's Theatre (124 W. 43rd Street) for a limited run through January 10, 2010. For reservations call 212-719-1300 or visit www.roundabouttheatre.org. For an insider look at the cast and production, and to sample musical numbers, visit www.byebyebirdieonbroadway.com/home. Ticket prices range from $86.50 - $141.50.
Directed and choreographed by Robert Longbottom (Side Show; The Scarlet Pimpernel; Flower Drum Song), Bye Bye Birdie in its new venue opens the door to increased Roundabout education outreach efforts and lower priced tickets to families and students. Education@Roundabout also has plans to expand its development workshops for educators and experimental learning opportunities for students through partnerships with schools and onsite after-school programs for teens.