Getting ready for your first family camping trip? Consider these tips before you go: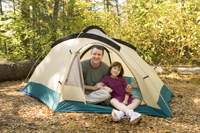 —Camping Amenities.
Campgrounds offer sites for tents and campers. Their family-friendly environments often include activities such as fishing, swimming, hiking and nature programs. Family campgrounds provide restrooms, showers and potable water. Some have stores and rent fishing poles, paddle boats, canoes and other equipment. Look for one that offers all the amenities your family wants.
—Eating in the Wild.
Most campgrounds provide grills, fire rings and picnic tables. A basic cooking set can consist of a bag of charcoal, a few pots and pans, and a spatula. Start with simple fare like sandwiches, hamburgers and pre-packaged meals. With each camping trip, try different recipes and add the necessary cookware.

—Dressing for the Occasion.
As your family gains experience, you can invest in specialized clothing; for most family trips, the expense isn't necessary. A selection of T-shirts, jeans, sweat pants, jackets and sweatshirts worn in layers allows for quick adjustments to the weather. Because clothes will get dirty, new or white clothing is not recommended.

—Protecting Your Feet.
Good boots are one of the first investments families will make as they expand their outdoor activities. Look for solid ankle support and tread designed for the types of surfaces you'll find in the wilderness. Purchase boots in outdoor stores where staff is trained to fit them properly. Buy socks and liners made of wool or other materials that will cushion feet and absorb moisture. 

—The Right Equipment.
Before investing, try to borrow tents, sleeping bags, lanterns or stoves to determine what suits your family. Take time to research what different stores and manufacturers offer. To save money, check yard sales or camping groups for used equipment. Remember, tents and sleeping bags are rated for specific conditions. Since most families camp in warm weather, you don't need to pay extra for gear designed for freezing and sub-freezing weather. 
JENNIFER WOODFORD works with Dehavilland Associates, an educational consulting firm.