There has been an uptick in the number of schools that include music in their curricula recently, despite fiscal challenges - but it will take creativity and a lot of parental support to keep these programs going for the generations to come.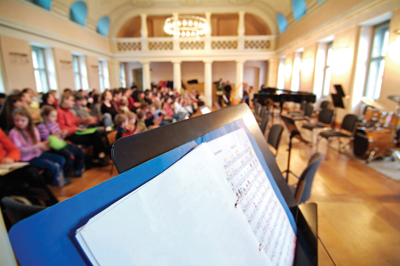 A one-time staple of elementary and middle school education is at a crossroads. It's no secret that many schools across the country have had to cut back on their music programs or abolish them altogether. However, music educators agree that there is hope for budding Bachs and Beethovens.
"It's vitally important for schools that want their music programs to thrive to have a strong PTA base, as well as communication between parents, teachers, and their respective school districts," says Rick Cantatore, who teaches K-6th grade music at both Greenville and Seely Place Elementary Schools in Edgemont, NY.
There are a variety of factors that have led many elementary and middle schools, especially in the New York metro area, to cut their arts programs. The main culprit has been fiscal crises affecting school districts. There also have been changes to schools' curricula that have emphasized other programs (such as standardized testing) that have cut into music education.
Many districts are trying to take the initiative to turn this around. According to the New York City Department of Education's Third Annual Arts in Schools Report for the 2008-2009 academic year, 60 percent of the city's public elementary schools included music as a part of their curricula (along with three other arts disciplines: theater, dance, and visual arts). This statistic showed a 15 percent increase from the previous school year. Likewise, that same school year all 8th grade students in 63 percent of middle schools completed a minimum of one half unit in two arts disciplines. This was an increase from a mere 29 percent two years earlier.
Still, for many districts, maintaining music programs in elementary and middle schools is an uphill battle. Districts channel funds into other classes, especially where there is testing involved. Or, those that do have music programs employ teachers on a part-time basis, who alternate from school to school, to cut costs. Many educators agree that music classes are integral to children's academic development and are indeed a necessity.
"Studies...report that elementary-aged students who participate in music programs score higher in reading, math, language, and overall achievement tests."
Grassroots Support
Educators consent that support for music programs must extend from the grassroots levels - parents and students - to the districts themselves. "It's vital that support come from the top, the school superintendent, and the teachers. We have that in our school," says John Catoliato, 7th grade music/chorus teacher and band director at Edgemont Junior/Senior High School in Scarsdale, NY. "We are lucky in that we have a small staff and a fiscally responsible administration, so we went into any difficulties very well prepared."
Other schools have seen their music programs dwindle over the years due to the addition of other requirements. These include foreign languages and standardized testing. "These other programs do have an important role to play in our middle school curriculum," says Thomas Cruciani, music teacher at John Read Middle School in Redding, Connecticut. "This has affected the music programs, but before- and after-school music classes have helped." Districts have to be creative in their approaches to preserving these programs. Cantatore says that, for example, donations from foundations have been a source of great support. "We also have had teachers bring parents in to give musical presentations to the classes, which also has been a big help," he adds.
Art is Not "Extra"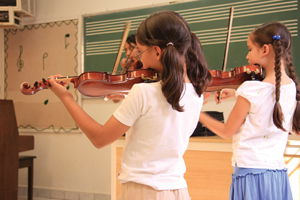 Strong music programs are a vital piece of the puzzle in a child's academic and intellectual growth. "It has been well-documented that music contributes to kids' physical, cognitive, and emotional development," says Dr. Jean Newton, dean of students and faculty at the Music Conservatory of Westchester in White Plains, NY. "It helps with everything from improving hand-eye coordination, fostering teamwork (as it often involves playing an instrument or singing with an ensemble), and it teaches discipline. Also, some kids may be more successful in music than academically, so it serves as a great confidence builder."
"The study of an instrument teaches discipline, organization, and focus," says Cruciani. "It also is important for brain development and community outreach." Adds William Eckfeld, president of the Westchester County School Music Association (WCSMA): "Studying music has proved to help improve reading ability, as well."
Studies published in The Journal of Research in Music Education report that elementary-aged students who participate in music programs score higher in reading, math, language, and overall achievement tests.
And according to Americans for the Arts, a leading national nonprofit, young people who participate in the arts for at least three hours, three days per week, for one year, are: four times more likely to be recognized for academic achievement, three times more likely to be elected to class office within their schools, four times more likely to participate in math or science fairs, and three times more likely to win an award for school attendance.
The Future?
Do music programs in elementary and middle schools face an uncertain future in light of the circumstances that surround them? Dr. Newton, for one, is cautiously optimistic. "There is an ebb and flow when it comes to music programs in schools," she says. "They are cut off during difficult economic times such as the present, but then they come back. Support from parents and students has helped immensely with this resurgence."
Check out our Online Calendar for family-friendly concerts, Mommy & Me music classes, and much more, all in the New York metro area