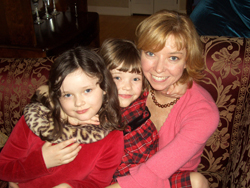 Edith McCarthy, M.D., knows that being a mother and having her own pediatric practice take a fair amount of balancing and hard work. One way she deals with it is to involve her two daughters, Erin, 7, and Lauren, 9. On weekends the girls often accompany their mother to the hospital, where she treats critically ill newborns. They even helped her pick out the toys and logo for her office.
   In March 2007, Dr. McCarthy, a pediatrician and neonatologist, founded Care Intensive Pediatrics, PLLC, located in midtown. The practice provides continuing care for infants born prematurely or with special needs, and offers support to their families as well. Dr. McCarthy was drawn to this specialty after supervising critically ill newborns in the Neonatal Intensive Care Unit (NICU) of both New York University and Bellevue hospitals while serving as assistant professor of pediatrics at NYU School of Medicine.
   "I got to know the families of the infants I treated," she says. "They needed support and they wanted me to further care for their babies."
   One percent of infants born today are referred to critical care due to low birth weight. Many of these children also have congenital anomalies, such as heart defects, craniofacial abnormalities (such as cleft palate), and cerebral palsy. These are serious conditions that Dr. McCarthy's clientele can deal with a bit more easily thanks to her hands-on and sympathetic approach.
   Child-friendly murals adorn the walls of her office, which is filled with inviting furniture, toys and books. "My logo is a heart, which I chose because I want it to convey to these families that I care," she says. "I really treat the whole family in addition to the infants. In so many cases involving an infant with special needs, further care is needed. Many times, parents are at a loss as to where to turn to get this care."
   Dr. McCarthy takes the time to refer families to the proper experts in cases such as these. "An infant may have certain nutritional needs, for example," she says.  "I will then refer the family to a nutritionist. I think because my medical training has been here in New York, I have a good handle on who are the best specialists for certain needs." In the future, she hopes to be able to make referrals for parents whose children may need special educational instruction, serving as a veritable "one stop-shop" for infants in need and their families.
   For now, Dr. McCarthy is the sole practitioner at the office. "I like to be the one to do the shots and the blood work," she says.
   Dr. McCarthy is also a bit of a throwback to physicians of another era, as she makes house calls. "My goal is to be there for the development of these children," she says. She has cared for 15,000 infants, both pre- and full term, in the course of her career. Her patients range from infant to high school age, and approximately 25 percent of them are healthy. "Many are the siblings of my special needs patients," she says.
   Care Intensive Pediatrics offers state-of-the-art equipment for infants needing critical care. "I have invested in digital scales, which are very accurate in checking the weight of infants who are low birth weight," she says. "I also have a top-of-the-line hearing and vision screening machine to monitor preemies who have hearing or vision deficits."
   Dr. McCarthy knows that amid all of her professional responsibilities, being a mother is a delicate juggling act. "My daughters know that my medical practice is a high priority," she says. "I try to include the girls in what I am doing. It's key to decide what's important on a day-to-day basis and schedule in advance events such as attending their school plays."
   A daytime nanny brings the girls two and from school. "I can't be as involved in their school life as other moms," she admits, "but there is an upside to having my own practice. It affords me the flexibility to be with them. Nights and weekends my husband and I are with them together. Also, I do homework with them, and have come to their school to 'show and tell' their class what I do."
   Dr. McCarthy believes that she is a good role model for Erin and Lauren, as she has demonstrated the balance between being a mother and having a career. She also says that being a mother has helped her be a better pediatrician: "Being a mom has given me that much more empathy to offer to these infants in need and their families."
   Care Intensive Pediatrics is located at 244 East 32nd Street. For more information, 212-726-0005 or www.careintensivepediatrics.com.