Carnie Wilson's road to motherhood certainly hasn't been an easy one. Though she's enjoyed chart-topping success with Wilson Phillips, she faced serious health problems after a late '90s weight gain put her at 300 pounds. When the daughter of Beach Boys legend Brian Wilson made the decision to have laparoscopic gastric bypass surgery, she brought awareness to the problem of morbid obesity by cybercasting the procedure online. Now Wilson is a new mother — her daughter Lola Sofia was born last year — and the songstress has released her first-ever solo CD, A Mother's Gift: Lullabies From the Heart.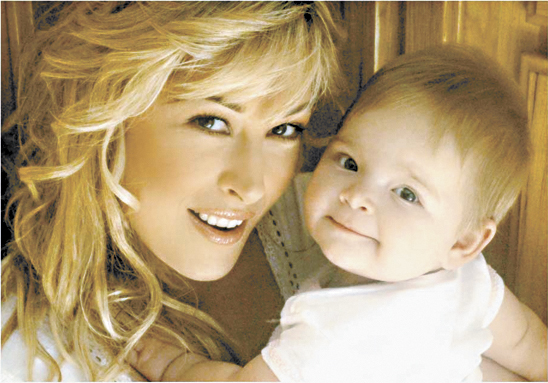 Wilson says she listened to lullabies frequently while nursing. The music became an important part of her journey into parenthood. "When you have a baby, everything is fluctuating. You're all sensitive and you have this new human being you're responsible for," she explains. "And for me, being very musical and emotional, it's almost like the first bit of music you experience with your baby is the music that you'll never forget."
A Mother's Gift contains original songs alongside interpretations of such standards as "Somewhere Over the Rainbow" and even Elvis Presley's "Love Me Tender" re-arranged as a lullaby. One of the most sonically adventurous tracks on the release is "When You Dream"; the composition is richly orchestrated with a variety of instruments and features music and lyrics Wilson wrote with her husband, Rob Bonfiglio. "The moment you hear that accordion and that harpsichord, it's so perfect and so appropriate for that song that you almost feel like you're holding a newborn baby in the middle of Italy," she says. "It's just a moment on the record that you go, 'Ooh! Ah!' I wish I were in the fields of Tuscany holding Lola right now!"
The song that's most endearing to Wilson, however, is a rendition of "You Are So Beautiful" sung with her father. The duet opens with trademark Beach Boys' harmonies, courtesy of the elder Wilson, and a touching snippet of three generations of the family interacting in the studio can be heard as the tune fades out. "The way he sang this song, it is so from his heart. His vocal is one of my favorites of all he's ever done," she reveals. "It is so sweet — it really is like he's singing it to Lola. And the two of us sound real good together. I'm just so happy that his spirit is there."
Much has been written about Brian Wilson's troubled life, which begs the question: What kind of parent was he? "My dad was very busy and had a lot of emotional problems when I was growing up, so he's overcome a lot and now everything has come full circle," Wilson replies. "We have a wonderful and close and loving relationship that surpassed my expectations and dreams. He is a very complex man who feels very deeply and has a very innocent and childlike way of looking at the world and people. He is a man who wears his heart on his sleeve. You always know how he's feeling because he will tell you what everybody else is thinking but doesn't want to say."

Other standout tracks on A Mother's Gift include "Lola Sofia", a lullaby that was co-written by female country artist Joey Daniels and the album's executive producer Bill Edwards. The acoustic guitar-based number even features its namesake, cooing in the background of the track's opening. Meanwhile, "What a Wonderful World" gets a gently jazzy treatment. "My husband's a jazz nut and this song was part of our wedding video and part of our marriage," Wilson reveals. "It just has a maturity to it that still is soothing enough for babies and moms and dads."

Because of the duties that accompany parenthood, Wilson doesn't plan to do any extensive touring in support of A Mother's Gift. But she does have a few other projects in the works. She has been talking with her record label about the possibility of her doing an album of duets with famous musical fathers. A few of the dads Wilson says she'd like to sing with include Sting, Michael McDonald, Phil Collins, Stevie Wonder and Paul McCartney.

And then there's always Wilson Phillips. The female vocal trio's last release, California, arrived in 2004 and featured covers of songs by performers like the Mamas & the Papas, Neil Young and other artists associated with the Golden State. Wilson Phillips' last collection of original material, however, was their 1992 sophomore effort, Shadows & Light. They're currently at work on their third set of all-original material, but there's no timetable for the release. So to tide fans over, a holiday album from the group is slated to arrive in 2007. "We have six kids between us — it's unbelievable," Wilson says. "We're on another hiatus and God willing, it won't be another 14 years!"