Most of us move on to other pursuits when our kids graduate from nursery school or age out of a sports program.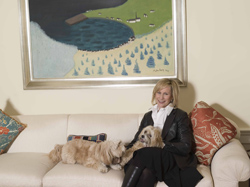 Although her daughters have long outgrown the Children's Museum of Manhattan (CMOM)  — one is in law school, the other in college — Upper West Sider Laurie M. Tisch still advocates tirelessly for the museum as honorary chairperson of its Board of Directors, touching the lives of thousands of kids, from out-of-town visitors to the museum to schoolchildren throughout New York City.
   Her efforts do not go unnoticed. Tisch was recently honored by Edutopia magazine as one of the 2007 Daring Dozen, for "making a powerful difference in the world of education." A former public school teacher, Tisch is also the founding chairperson of The Center for Arts Education, and vice chair of Teachers College at Columbia University.
   While schools are under pressure to raise standards demanded by No Child Left Behind, and to make sure kids are active to combat the childhood obesity epidemic, Tisch feels that there is a place — and the time — for the arts in all public schools. "If it's a priority, it can be done," she asserts.  "The arts are an integral part of a good, well-rounded education."  She notes that there are many NYC principals who have managed to integrate the arts while meeting new standards, and believes the "kill and drill" some parents and teachers feel is necessary to fulfill No Child Left Behind requirements does not exactly offer kids "the best way to like school."
   As a leading arts advocacy organization, Tisch's Manhattan-based Center for Arts Education (CAE) has provided over $40 million for arts education programs in New York City public schools; their programs include Parents as Arts Partners, which invites public school parents into the child's classroom and introduces various media. CAE funds over 400 parent programs, which can include learning musical instruments or trips to cultural institutions. There are programs in schools in all five boroughs, with almost 350 cultural institutions involved.  CAE estimates that since 1998, when it began operations, it has provided grants to over 1,000 school programs.   In the 2006-07 school year, over 15,000 parents and 23,000 students benefited from its largesse.
   Tisch's own children have inherited the philanthropic mantle. Although both are still in school, they are committed volunteers who, she says, have taken up "the family business." The volunteering goes back a generation; Tisch's late father, Preston Robert Tisch, was so philanthropically involved that the NYU Tisch School of the Arts and Central Park's Tisch Children's Zoo were both named for him.
   Laurie Tisch, who raised her children in the city, says her family always took advantage of its many offerings.  She remembers, however, that there weren't quite as many museum programs designed for children 20 years ago — one of the reasons she first became involved with the Manhattan Laboratory Museum, the institution that grew into CMOM.  She feels the city is a "phenomenal" place to raise children.  Even with her family's vast financial resources, she says they went  frequently to Central Park, particularly for ice skating at Wollman Rink.  According to Tisch, the money poured into public and private parks has made raising children in New York City even more enticing. What she modestly neglects to mention is that many of the improvements are in large part due to her efforts.