They met on a softball field and connected over a piece of sports equipment: one needed a glove; the other had one in the car. A nice opening gambit for superstar catcher Jorge Posada and his perfect power-couple match, Laura - whose own amazing career path has propelled her from publicist to TV host to fitness model and actress, to attorney, personal trainer, and author.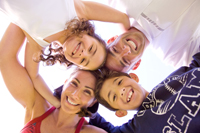 But it has been their children - including oldest son Jorge, Jr., diagnosed with the rare congenital condition Craniosynostosis as an infant, that did much to inspire their extensive educational and philanthropic outreach efforts. Together, they created the Jorge Posada Foundation to help patients and their families deal with the challenges of Craniosynostosis (the organization provides emotional support, financial assistance to underwrite a portion of the costs of initial surgeries via partner medical centers throughout the U.S., encourages further research, and strives to create awareness through various events and programs).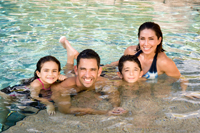 As for Jorge Rafael De Posada (born in Santurce, Puerto Rico on August 17,1971; a major league Yankee since September 4, 1995), along with his many high-profile baseball and charitable awards, his dedication to children and family netted him the 2006 Mentor of the Year Award from Kids in Distressed Situations, Inc., while the same year, he and Laura together were honored with the Puerto Rican Family Foundation Excellence Award for their commitment to children, especially those affected by Craniosynostosis..
Laura, too, has been on the receiving end of a number of awards for her inspirational work on behalf of parents and children including, in October 2007, the Commitment to Family Award from the Girls and Boys Town of New York and, this past September, the Super-Mom Award from the Magazine Selecciones.
Laura's passion for maintaining a healthy lifestyle and her desire to "help families get fit and stay fit" in a day and age when child obesity is front page news led her to collaborate with Jorge on the motivational book FIT HOME TEAM The Posada Family Guide to Health, Exercise, and Nutrition the Inexpensive and Simple Way.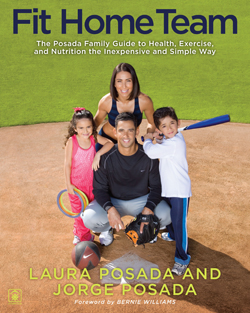 Published by Atria Books (an imprint of Simon & Schuster), Fit Home Team made its debut on September 8, 2009. At 224 pages, this wonderfully comprehensive guide to family health and fitness is literally teeming (or should I say "teaming") with proactive advice ("The Fitness Hot List: Family Time Is The Most Important Of All;" "Know Your Numbers: The Importance Of Heart Rate & Pulse Rate"); games and exercises ("The Triple A's: Anytime, Anywhere Activities-Twister, Anyone?"), dietary suggestions ("The Simplest Ways To Cut Down On Salt;" "Rethink Your Treats: Did You Know Fresh Lychees Taste As Good As Gummy Bears?") and recipes ("Food = Fun: Sushi Rolling Parties, Taco Night & Fro-Yo/Sorbet Sundays").
With the Yankees in playoff mode - and a potential shot at the World Series looming on the horizon - Laura stepped up to the plate to answer our five Celebrity Parent questions. But make no mistake, Jorge and Laura are absolutely on the same page when it comes to raising their kids, from exercise and nutrition to discipline and quality time together.
The Facts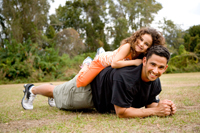 At Work: Jorge Posada, All Star Catcher of the New York Yankees;
Laura Posada, attorney and CEO of Laura Posada Enterprises, LLP.
At Home: Manhattan and Miami. Son, Jorge Luis, 9; daughter, Paulina, 7.
Q. What is your favorite activity with your children?
LP: I enjoy every moment with them, but my favorite is when we all sit down to dinner together. It is the perfect time to talk about their day in school and hear how things are going. It also gives us time to plan about what activities we want to plan in the upcoming days.
Q. What is the most important lesson you try to impart to your children?
LP: The most important is the "d list" that we have in the book. Basically that they can achieve whatever they want if they are" disciplined," "dedicated," have the "desire" to do things and are "determined." In Fit Home Team we added even more d's to the list.
Q. Who was your greatest child-raising influence and why?
LP: My parents did a great job when I was growing up. They were strict, but also rewarded me when I succeeded in school or sports. I believe that is important, and I try to do the same with my children.
Q. What is your approach to disciplining your children?
LP: I always teach them that they need to treat me with respect just as I respect them. I try to talk to them and explain why there are certain rules. I use time-outs when they are misbehaving and ask them to use the time to reflect on what just happened. After 5-10 minutes have passed I will ask then how they feel and if they have learned anything from the situation. We talk about it and at the end I remind them that I love them, and I'm only trying to help them become a better person.
Q. What was a memorable family outing?
LP: We recently took a family trip that was really amazing. We went snorkeling, zip-lining and rode in ATVs. Practically every day we tried something new and different. We all had a blast!!!
For more Jorge-centric Q&As, visit the MVP's website - http://jorgeposada.com/ - where you'll learn, among other things, that the best advice he ever received was from his dad ("Make your goals very high and go get 'em"), and that the two posters hanging on his bedroom wall when he was a kid were of Don Mattingly and George Brett.
For information on or to purchase Fit Home Team, visit www.books.simonandschuster.com/Fit-Home-Team/Jorge-Posada/9781439109311. To learn more about the Jorge Posada Foundation, visit www.jorgeposadafoundation.org.