The holidays are upon us. With the hustle and bustle of entertaining and invitations coming in, I seem to always find myself in need of a recipe for an appetizer or a special dish to make and bring to a party. It is also the season when I bring the kids into the warmth of the kitchen to bake or cook, and to enjoy time together with them.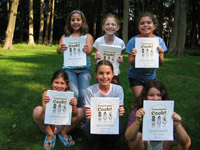 Right now, we're browsing Americans Cook!, a new collective cookbook of 300+ recipes contributed by America's governors, senators, congressmen, celebrities, famous chefs, food manufacturers and inns. And let us not forget the Girl Scouts. 

   The book began as a fundraising project for Chappaqua Girl Scout Troop # 2738. They began collecting their favorite recipes, contacting local chefs and restaurants and community residents, for the intended book, Chappaqua Cooks! They even received recipes from the Clintons. From there, the Girl Scout Troop began requesting recipes from chefs all over the nation, as well as government representatives. Recipes poured in, and the book evolved into Americans Cook!

   In this bountiful collection you will find recipes for Kaiserschmarren (Sweet Austrian Pancake) by Governor Arnold Schwarzenegger, Mesa Grill Blue Corn Muffins by chef Bobby Flay, Chicken Enchiladas by President William Jefferson Clinton, Empire Apple Muffins by Governor George Pataki, and Crab Quiche by John Travolta. My favorite recipe so far, Butternut Squash, Apple and Cider Soup, was contributed by Alex Rubeo from Stoneleigh Creek restaurant in Croton Falls. Every recipe in the book is easy to prepare and the instructions are simple to follow.

   "I wanted the reader to be able to open the book and look around without being turned off by long and complicated recipes," says Felice Kaufman, co-leader of the 5th Grade Troop that put the book together. "This project is about turning parents onto cooking, not frustrating them."
 
   Kaufman's goal was to inspire readers to cook and eat meals together at home, using the concept that cooking is not only a great activity for kids, but also a valuable life skill.  Kaufman feels that children need to spend time with their parents in a relaxed atmosphere, not eating dinner out of a box while racing from one scheduled activity to the next. Her hope is that by bringing the book into the homes of thousands of Americans, the troop will help remind parents that they can teach their children about leadership and social conscience, and reinforce kids' sense of self-worth by spending time with them. "This," notes Kaufman, "is exactly what the Girl Scouts aim to do."

   From a design standpoint, the layout of the book could have been a bit more "kid friendly". The pages do not visually entice one to say, "Hey, let's try making this." In fact, images of food throughout the book are limited, appearing only on the section breakers, and there are no pictures of the prepared dishes. But finds saved on production costs go to a great cause and it is the variety of recipes that make the book — from a breakfast of Blueberry Cream Cheese Bramble, to a dinner of Pork Osso Bucco Milanese, and dessert of Chocolate Espresso Cookies.

   Chappaqua #2738 is one of the many troops that make up the 17,000 girls and 5,000 volunteers of the Girl Scouts of Westchester*Putnam (GSW*P). Besides selling cookies, the Girl Scouts perform numerous community projects to benefit others, from sending care packages to our nation's soldiers to collecting baby blankets for women's shelters. Troop #2738 unanimously voted for all the revenue from their book to go to the GSW*P so that they can continue to make a difference in girls' lives.  And they plan on doing a sequel, and are inviting everyone to send in their recipes! Submit your recipe, with your name, address, phone number, email address, a 2-3 sentence bio, and a clear photograph of yourself to [email protected]

   For further information, or to order Americans Cook! ($24.95), go to www.americanscook.com.