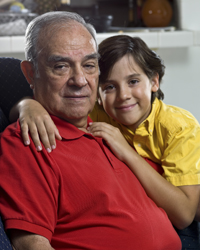 During the holidays, many families choose not just to give to each other but also to give back to their community. There are hundreds of ways to make a difference. Contact the Salvation Army or other social service groups in your community, or consider these family-friendly suggestions for volunteering:

Food pantries:
Places that give away free food to people who might otherwise go hungry are especially busy during the holiday season.  Kids can organize a
food drive
through their school or religious group.  Many f
ood banks
provide all the promotional material needed to get the project set up.  Or if your birthday falls around the holidays, ask kids to donate canned food instead of giving a present.
Clothing:
The Salvation Army, Goodwill Industries
and other
charities
collect gently used clothing to be given away or sold in their shops.  So set aside a day when the entire family can go through closets and drawers to see what can be donated.  In addition, some
animal shelters
accept old sheets and towels to be used for bedding by dogs and cats.
Sponsor a family:
Ask your local Health Department, Town Hall, house of worship or women's shelter to supply information about a
local family
that could use some help during the holidays. Then take your kids holiday shopping for the family, choosing from a list of items they'd like or need.  "We sponsored a single mother who just needed help paying the electric bills," says Jen Singer, creator of
MommaSaid.net
and author of
You're a Good Mom (and Your Kids Aren't So Bad Either).
"It gave us the opportunity to show our kids that they can help people who are less fortunate right in our own neighborhood."
Volunteer at a nursing home or senior center
: Some of the
elderly residents
can't rely on family who might live far away. Make sure kids come with some sweet treats or arts and crafts to give away. Or get together with friends and bring musical instruments or sing holiday songs.  Be sure to call ahead to get the okay to visit and arrange a time that works for the residents.                                        
Shovel snow, run errands, etc.
: Encourage your kids to help a neighbor in need during the holiday season and beyond by shoveling snow, taking out the garbage and recyclables, delivering food, and more.  "We truly appreciated the help that we got from our neighbors — adults and kids — when I can cancer last year," says Jen Singer.
Ring that bell:
Volunteer as a family to ring the bell for the
Salvation Army Red Kettles.
There are more than 300 locations in the metropolitan New York area. It's a great family experience and it helps raise millions of dollars a few coins at a time.
Count birds:
Take part in the
annual Christmas Bird Count sponsored by the Audubon Society
, beginning this year on December 14.  It's a family tradition for tens of thousands of people across the country and it helps scientists understand how our feathered friends are doing.