With Thanksgiving and the holidays just around the corner, many of us spend a lot of time traveling, most of the time with our kids, to see our relatives and loved ones. As much as you may want to maintain your beauty regime and sense of style while on the road, it can become cumbersome and difficult to do so. Here are some FABULOUS products that allow you to truly travel in beauty and style!
    Pitotubes
were created by former flight attendant Alisa Caviness-Driscoll. Pitotubes' slogan is "It's Like Rocket Science For Your Packing!" Truer words could not be spoken. These are sleek, luxury, airless travel bottles that transport your shampoo, conditioner, lotions etc. with elegance and ease. Simply transfer your toiletries into the bottles and forget about searching for travel sizes or cleaning up after the big spill. They are refillable, so you can use them over and over again, and they can be filled with your favorite products. They claim to not leak during air travel, even when put to the test in the highest of altitudes or the longest flight imaginable. Say bye-bye to the oozing mess we've all experienced while traveling. Pitotubes Travel kit includes 6 travel size bottles (2 each large, medium & small) and a personalized label sheet in a metallic mesh bag ($52). Individual travel size bottles are also available and range from $8-$10. Pitotubes are toted by celebrities Jake Gyllenhaal and Rachael Ray. Available at
www.pitotubes.com
.
    Prescriptives Super Flight Cream
($35) is a super-hydrating cream to prevent and recover skin that becomes dehydrated while flying. Apply a pea-sized amount in your hands, rub together, and gently pat into your face before or during your flight. The tube is 1.7oz, to please TSA. This product can also be used as a moisturizer or hydrating mask to replenish skin that has become dehydrated while traveling.
    If you're expecting,
The Pregnancy Survival Kit
from Belly Basics ($160) is a must-have for a great basic travel-friendly wardrobe. It includes:
--A sleek and chic figure-flattering faux wrap dress
--A better-than-basic 3/4-sleeved polo top with side shirring
--A stretchy A-line, knee-length skirt
--A straight-legged pant with the famously flattering wide waistband
Mix and match these pieces with some fun tops and bottoms and you're set! Available at
www.babystyle.com
.
If you're not pregnant, consider
The Limited's L3 Travel Suit
-- a washable stretch wool collection which includes a blazer ($178), slim pants ($89) and a pencil skirt ($68). The line comes in travel-friendly colors such as black and gray pinstripe. These pieces are all machine-washable and come out looking good as new! Add in a pair of jeans, a cashmere sweater or wrap, a silk blouse and a fun T-shirt or two, and you have endless styling options.
Traveling can be very stressful, especially when you are toting around your kids as well -- at least with these products, you can lighten up your load. And even if you feel stressed, you won't look it!
_______________________________________________________
DEBRA RUBIN-ROBERTS is an award-winning makeup artist, and a New York City mom. After she gave birth to her daughter, she discovered she needed to shorten and simplify her daily beauty routine -- leading her to create Mommy Makeup for Chic Moms on-the-go! For more info on Debra and Mommy Makeup, go to
www.mommymakeup.com
or call 1-877-MOMMY98.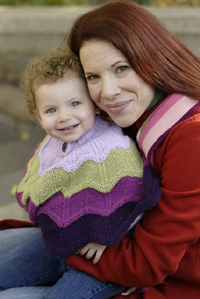 Mommy Makeup's Travel Pick
:
Mommy Makeup's for Chic Moms on-the-go! offers two types of makeup kits,
Clean-n-Casual
($88) or
Pretty-n-Polished
($120). Each kit includes 5-6 multi-tasking products that do your entire face from start to finish in 6 minutes or less. Also included is a "Paint By Numbers" Instructions and Face Chart for mistake-proof application, every time. The products and face chart are housed in a slim, space-efficient Black Mesh Makeup Bag, which is also it is see-thru, making it TSA-friendly. Also sold separately is the
Chic Mom Brush Kit
($88), which includes 6 makeup artist-quality, short-handled brushes in a Chic Petite Black Mesh Bag. The brush bag fits inside the Black Mesh Makeup Bag, so you can carry the brushes and makeup together in a small pouch. Available at Destination Maternity, select boutiques and spas, and online at
www.mommymakeup.com
.