Valentine's day… the romantic holiday… the looove holiday, the sexy holiday. Who says that moms can't enjoy all this for Valentine's Day, too? Here are some simple and fun ways for you to feel all the love Valentine's Day has to offer!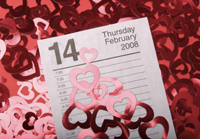 WORK AT YOUR LOVE
… by working out! Nothing makes you feel sexier than feeling toned and trim. So even though it's winter and it's cold, keep your New Year's resolution and keep up the exercise!
WEARABLE (RATHER THAN EDIBLE) SWEETS
— You're feeling toned and trim and sexy. Don't sabotage all that exercise by eating sweets … wear them instead! Indulge in
Red Velvet Cake by philosophy
($16). It's a 3-in-1 shampoo, shower gel and bubble bath (perfect for multi-tasking moms) that smells like positively delicious fresh baked red velvet cake. Another no-cal option is
Urban Decay's Flavored Body Powders
($15-$26). Sweeten your look with these shimmering, sparkling powders that are available in Caramel, Cocoa, Honey, and Marshmallow flavors. Dust on shoulders or décolletage, or wherever you want a long-lasting radiant glow. It's a sexy, 100 percent calorie-free option for Valentine's Day.
FALL IN LOVE ALL OVER AGAIN
— Another great way to feel sensual is to try a new fragrance. Also by philosophy is
Falling in Love
($40-$55), a fragrance created for one reason only ... to make a woman feel and smell absolutely, positively, romantic. How perfect for Valentine's Day!
LOVE IS IN THE AIR
— Create a romantic setting with sinfully yummy scented candles. Try
Votivo's Red Currant Candle
($25), a blend of red currants, golden fruits, vanilla and raspberries; or their
Crème Brulee Candle
($25), which smells like vanilla, raw sugar, butter and caramelized honey. These decadent scents create a mood and atmosphere good enough to eat! Plus, all Votivo candles burn approximately 50-60 hours.
   Most importantly, you cannot spread the love around unless you love yourself first … so indulge yourself a little this Valentine's Day and do whatever it is that makes you feel more confident, more sensual, more sexy, more romantic, and, well, more LOVED!  Happy Valentine's Day!
DEBRA RUBIN-ROBERTS is an award-winning makeup artist, and a New York City mom.  After she gave birth to her daughter, she discovered she needed to shorten and simplify her daily beauty routine — leading her to create Mommy Makeup… for Chic Moms on-the-go! For more info, go to www.mommymakeup.com or call 1-877-MOMMY98.


MOMMY MAKEUP'S VALENTINE PICK


Love and Kisses – Make your lips look luscious with
Mommy's Kisses
by Mommy Makeup ($24). A coordinating lip liner is hidden in the handle of the lip gloss to make your lips look irresistibly kissable in no time. For deep red super sexy lips, try the shades Olivia (a deep garnet with shimmer) or Ashley (a rich ruby). If you are feeling more kittenish and want to achieve a pastel-looking pout, try Mia (an icy, shimmery pale pink).