CHILDREN'S HALLOWEEN BOOKS AND DVDS
Related:
halloween
,
books
,
DVDs
,
Spookleville
,
Trick or Treat Tales
,
Nightmare Academy
,
Shaun the Sheep
,
Kids can read up on some of the Halloween-themed books and DVDs being offered this season. From spooky to just plain fun, there's something for everyone!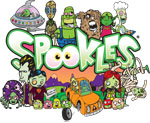 Meet the Spookles
While many Halloween books rely on thrill and scare devices or focus on monsters, vampires, and ghouls as separate entities, the Spookleville series does something unique. Author and mother of two, Colleen Wenn humanizes the cast of characters to make a world of relatable monsters with real-life problems. Spookleville is a world of its own where the Spookles live, of course, and its resident monsters are responsible for organizing Halloween each year. The series consists of 12 books, each focusing on a different character who is facing a challenge, like Hal, who has trouble focusing, or Harry, who has little energy on the playground because he eats junk food. There's also Willard, the elderly spider who can't quite spin a good web anymore until his fellow Spookle friends help out. These books, each with a caring message, are just the right length for a bedtime story, and since there are 12, they're the perfect way to count down to Halloween night. $4.99 each. Ages 4-8. www.amazon.com.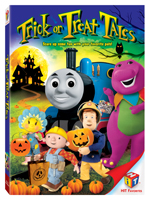 Easy on the Scares
Preschoolers will delight in the cast of popular characters making their way to the new Halloween video, Hit Favorites: Trick or Treat Tales. For kids who aren't quite ready for scary stories, this video includes favorites like Thomas & Friends, Barney, Bob the Builder, Angeline Ballerina, and more. There's probably no better (or easier) way to end a long day of trick or treating than with a fun video that teaches about friendship, learning, and adventure. $14.98. Ages 1-5. From Lionsgate and HIT Entertainment.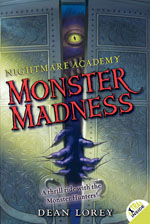 Nightmares Between the Pages
Preteens looking for an adventure-packed story should pick up Nightmare Academy #2: Monster Madness (HarperCollins). With non-stop action, this tale tells the story of the Monster Hunters from the Nightmare Academy who are back to battle the bad guys and explore new parts of the Nether. As they race to save the one creature who can keep the Named from reaching earth, Charlie, Theodore, Violet, and Brooke take on new enemies - Darklings, Dangeroos, Bang Jellies, and Hydras, and mega-monsters Tyrannus and Slagguron. $9.89. Ages 9-12.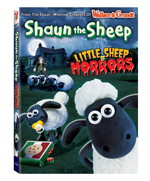 Get Sheepish
Tiptoe along with Shaun the SheepTM and his fellow flock as they creep, sneak, and behave like, well, sheep in a collection of silly and spooky episodes. The all-new Shaun the Sheep: Little Sheep of Horrors arrives on DVD just in time for Halloween. A recent winner of the International Emmy Award for Children & Young People, Shaun the Sheep typically consists of five-minute shorts in the series currently aired on the Disney Channel. Now fans can find the full-length episodes on the DVD. $14.98. Ages 2 and up. www.shaunthesheep.com.
More Halloween Articles Articles
7 Tips for Trick-or-Treating with Your Toddler
New Book Encourages Kids to Give Up Halloween Candy
Halloween Activities in Bucks County, PA
DIY Alien Monster Egg Halloween Decoration
Toddler-Friendly Halloween Events in Fairfield County, CT