Check out the best shows for kids playing this October in Manhattan - from Angelina Ballerina's stage debut to New York Music Festival's "Shine! The Horatio Alger Musical." You'll find all the information you need here, from plot summaries to show times.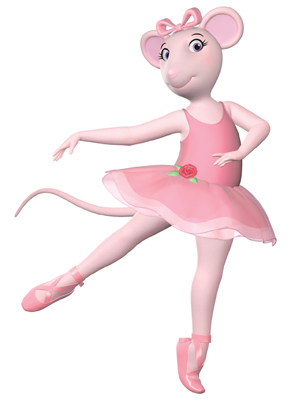 The frost might not be on the pumpkin quite yet, still the sweater-friendly month of October is primed to sing, dance, and giggle its way into family-friendly theaters throughout Manhattan. And while some have a limited shelf life (catch them while you can!), others will be around for a while.
For now, here is the absolute scoop on the "fabulicious" kid shows debuting this month! In order of appearance...
Angelina Ballerina The Musical
The adorable dancing mousling of kid-lit fame - along with her BFFs Alice, Gracie, AZ, and Vicki, and her teacher, Ms. Mimi - are all part of this new musical designed to charm children from three to 12 who love all kinds of dance, from ballet (naturally) to modern dance, the Irish jig, and even hip-hop!
The plot centers on a special guest who'll be visiting Camembert Academy, and Angelina's
star-struck desire to sparkle in the spotlight for her big moment.
Based on the CG-animated series, Angelina Ballerina: The Next Steps on PBS KIDS®, this Vital Theatre production (from the same folks behind Pinkalicious The Musical) runs Saturday & Sunday at 11am and 1pm.
Bonus: Every Friday (at 4:30pm) is Angelina Ballerina Play Day, where kids (and parents, nannies, grannies, and siblings) are invited to see the same weekend performance on a (whoopee!) school day. Health-conscious after-school, pre-dinner snacks will be available for purchase at the theatre at these performances.
October 2 through November 21. 60 minutes. Tickets are $29.50.
Vital Theatre (at McGinn Cazale Theatre), 2162 Broadway at 76th Street, 4th Floor. 212-579-0528. www.angelinaballerinathemusical.com.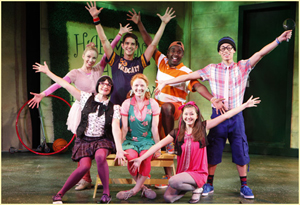 Freckleface Strawberry The Musical
The all new family musical based on actress Julianne Moore's bestselling children's book, Freckleface Strawberry, takes up residence at New World Stages for what well may be an extensive run.
The title character, teased for her bright red hair and freckles, at first tries to change the way she looks to fit in, but ultimately goes on a journey that teaches her the invaluable lesson: "We're all different, just like everyone else."
Naturally, the score is prominent in the heroine's discovery process with song titles like "I Can Be Anything" and "Hey, It's Me."
Opens October 3. 70 minutes; all ages; tickets range from $39 to $68.50.
New World Stages, 340 West 50th Street. 212-239-6200. www.frecklefacethemusical.com.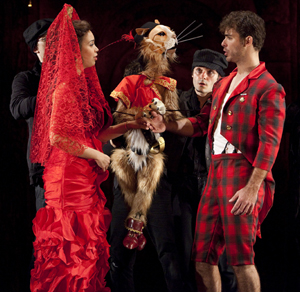 Puss In Boots (El gato con botas)
The New Victory Theatre kicks off its latest season with a classic fairytale re-imagined by composer Xavier Montsalvatge and director Moises Kaufman. They transform Puss in Boots into an eye- and ear-catching musical with a "grand melodic score and libretto." The production consists of five singers and "actors" from London puppet masters Blind Summit Theatre.
With a generous dose of Latin enchantment (a couple of the performances are presented in Spanish), this all-sung, beautifully staged show follows the traditional storyline in which Puss - fast-talking (or in this case, fast-singing) feline dressed to the nine lives in hat, cape, and totally awesome boots - promises a poor miller love and riches beyond his wildest dreams.
October 2-10; 70 minutes; ages 8 and up; tickets are $9 to $25 for members, $14 to $38 for non-members. Spanish language performances are October 7 and 9 at 7pm. On Friday, October 8, the performance will be sign-interpreted and feature a post-show talk-back.
(All performances are supertitled in English.)
New Victory Theatre, 209 West 42nd Street. 646-562-2200. www.newvictory.org.
Shine! The Horatio Alger Musical
The ultimate family-friendly member of the New York Music Festival 2010 takes place in 1876 in lower Manhattan. Based on turn-of-the-20th-century "boys lit" author Horatio Alger's classic rags-to-riches tale, the story follows a young bootblack who - with a little luck, a dollop of charm, and a whole lot of hard work - turns his life around to become a budding entrepreneur.
Characters include a Dickensian array of odious schemers, comical villains, and good-hearted benefactors.
October 7-17; 2 hours, 20 minutes; tickets are $20.
Theatre at St. Clement's, 423 West 46th Street. 212-352-3101. www.nymf.org/show-1305.html.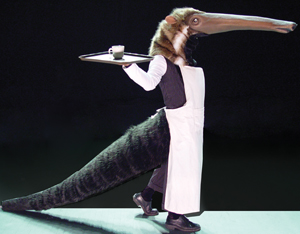 ZooZoo
Once again, the New Victory proclaims "let's mix things up real good!" According to Carol Triffle and Jerry Mouawad of Portland, Oregon's Imago Theatre, who created this gleefully kooky extravaganza of costumery, masks, acrobatics, music, and lights: "In our world, frogs and penguins are not too different from humans....Without a human body on stage to gauge size or set a scale, we create a wonderful space to change perception."
Thus, in the Imago universe polar bears roll about with balls, frogs confound the audience, and penguins play a wild game of musical chairs. A one-of-a-kind collection of sublime and silly scenarios!
October 15-24; 60 minutes; ages 4 and up; tickets are $9 to $25 for members, $14 to $38 for
non-members.

New Victory Theatre, 209 West 42nd Street. 646 562-2200. www.newvictory.org.