'Tis the season for cookies! We have selected our favorite cookie recipes to get you started  this holiday season.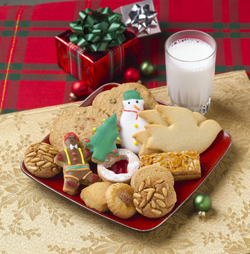 Thumb Print Cookies

   Kids will love making these cookies because they can roll the dough and squish their thumbs in it, which made the cookie uniquely theirs.  The game is --they have to find and eat the cookies with their own thumb print!

Preheat oven to 375 degrees.

Ingredients:
1/2 cup light brown sugar
1 cup butter, room temperature
2 large eggs, separated
1 teaspoon vanilla
2 cups all purpose flour
1/4 teaspoon baking soda
1/2 teaspoon salt
1 1/4 cups finely chopped pecans (optional)
your favorite jams or preserves

Prep:
Cream together brown sugar and butter; beat in egg
yolks and vanilla.  Stir in flour, baking soda, and
salt.  Shape dough into 1-inch balls. 

If you want to add pecans, dip the balls into egg white and roll in pecans.

Place cookies about 1" apart on un-greased baking sheet; press thumb deeply in center of each.  If you like, have the kids choose their own jam/preserves to put on top.
Bake until light brown, about 10 minutes.  Immediately remove from cookie sheet and cool thoroughly. 
Makes 5 to 6 dozen.

Courtesy of My Kids' Cookies: www.MyKidsCookies.com