This year marks major birthdays for many favorite toys. In 2009, Pinocchio celebrates his 70th birthday and Barbie her 50th; the Teenage Mutant Ninja Turtles turn 25, and SpongeBob is already 10. To commemorate these milestones, the toy industry is celebrating in a big way. From new products and branding, to limited editions and tours, toy manufacturers are working to appeal not only to the parents who played with these classics as kids, but to the next generation and beyond.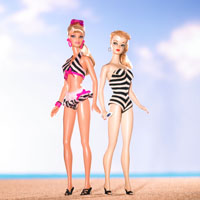 New Ways to Play
   The digital age has given kids a host of different ways to learn and play, and classic toy manufactures recognize their need to keep up. "The ones that really stand the test of time truly understand how to make their toys contemporary so that today's consumer will love them as much, if not more, than when they were first introduced," says Gareb Shamus, publisher of Toy Wishes magazine. "Toy companies are marketing their products in new, updated, and unique ways; they have successfully taken the characters and made them very accessible in all media."
   Unlike when these toys first hit the scene, now video games and personal gaming devices along with online components and interactivity enhance the toy experience and make it enticing to today's children. Classic films have been digitally remastered, include special effects, and are available on Blu-ray disc to keep the next generation of children interested in timeless titles.     
   In addition, the focus on learning has become more important for manufacturers as well as they develop new toys. "Technology is making it a lot easier to create opportunities to teach kids more about their school work," says Shamus, who cites Leap Frog's "Didj," which encourages kids to master spelling, language, and math, and allows parents to see their kids' progress.
   Yet no matter how many different ways kids can play with these toys in the digital sphere, Shamus suggests the toy itself will never become obsolete. "Children still want to own it, hold it, play with it, and show it to their friends. There's always going to be an element of surprise when parents give the toy as a present to their children."
How the Toys Are Celebrating
Pinocchio
• The classic film has been digitally remastered and a special anniversary edition is available on Blu-ray.
• Limited edition, hand-painted and handcrafted marionette dolls are available for purchase in Disney stores and on
Disney.com
.
Barbie
• In March, a pink carpet birthday party at the real Malibu Dream House® was hosted for Barbie, where she had her first-ever runway show during fashion week.
• Bathing Suit Barbie® doll was unveiled sporting a more natural look.
• 50th Anniversary Collector Barbie® was unveiled.
Teenage Mutant Ninja Turtles
• The Turtles are currently on a nationwide mobile tour.
• A 25th anniversary website was launched for original fans and newcomers alike, at
www.tmnt25.com
.
• New action figures from Playmate Toys are available.
SpongeBob Square Pants
• New co-branded games have been released, including a special edition of Connect 4 and Sorry!
• SpongeBob is having a birthday bash aboard the Nick Family Cruise in July.
(Photo courtesy of Mattel
)