Got a week and some visions of palm trees? The Caribbean may be closer, but Hawaii is our idea of the perfect family vacation destination.

Each of the islands has a particular appeal. On Oahu, we enjoy the buzz of Waikiki and driving to the North Shore beaches; on the Big Island, Volcanoes National Park; on Kauai, catamaraning on the Na Pali coast; on Maui, hiking through the rainforests.

In a week, you can comfortably visit two islands; our most recent trip brought us to Kauai and Maui.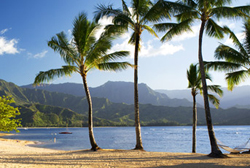 Hanalei Bay

KAUAI
Frequent visitors to Kauai will tell you they prefer the North Shore (Princeville) over the South Shore (Poipu Beach) — or vice versa. This is, of course, like choosing one side of paradise over the other. And actually, you don't have to choose — you can go back and forth on day trips.

North Shore and Princeville
Hawaiian vacations have always been active ones for our family, so when we got to the North Shore and checked into the fabulous Princeville Resort (more on this later), we were psyched for a half-day hike, this time on Princeville Ranch — one of the oldest working cattle ranches in Hawaii. Happy cows graze the 2,500 acres of lush, rolling farmlands, but like farmers everywhere, the Carswell family, whose deed goes back to a missionary relative in the 1890s, have diversified over the years.

In Hawaii, a natural add-on is eco-adventures, and at Princeville Ranch, you can hike, kayak, swim in hidden natural waterfalls, and go ziplining. We haven't yet tried this "in" sport, which attaches each person securely to a cable and sends you flying through the air. Soaring to a height of 150 feet over the valley at one point, ziplining must be awesome on the Ranch (you need to be 12+ to try this).

Always attracted to hiking, we opted for the four-hour "Waterfall Kayak" adventure. You get suited up at "base camp" with backpacks and tabis (frog-like water shoes that make everyone look like dorky amphibians but that are great for traction — much of this hike involves trekking over rocks in the water) — and are then transported to the ranch by Jeep, in a small group. This hike could be described as easy to moderate. Five is the minimum age, but you need to make sure your kids enjoy walking and are not too skittish — they will do some uphill trekking ands wading through streams, and it's not for anyone who minds getting a bit muddy and messy.

 You'll be rewarded with breathtaking views of the lush mountains and fertile valleys. Along the way, guide Kimo pointed out native plants and flowers and taught us how to identify — and taste — the native fruit that grows wild, like guavas and the unexpectedly delicious uluhe fern.

 We knew we would be kayaking, but when we reached our launch point, we felt like pioneer explorers stumbling upon a hidden jungle-like treasure. The riverway is lush and narrow, and as you paddle along, sun filtering through the trees, guavas ripe for nibbling floating in the water, it's hard to imagine the rushed pace of the world outside; even beginner kayakers would do just fine here.

 More discoveries awaited as we banked our kayaks and hiked to another hidden piece of paradise — a swimming hole with waterfall for diving, splashing, and floating in tubes — so refreshing. While we swam, Kimo prepared a delicious lunch of pita sandwiches and Kauai cookies, urging us to eat up so that his backpack would be a bit lighter on the homeward trek.

 After many Hawaiian family vacations — each one of them magical — I would advise including an eco-hike or two in your itinerary. So much of the Hawaiian Islands remains in its natural state, and to be escorted into some of its hidden spots by a nature-loving island guide is what will make your vacation extra-memorable. And the benefits of exposing kids to the few places left on Earth where nature continues to thrive and where its inhabitants respect the land over all else, are immeasurable.

Princeville Ranch Adventures offers several different trips combining hiking, waterfall swimming, kayaking and ziplining. Prices range from $79-$125 person. Check these out at www.adventureskauai.com, or call 1-888-955-7669.



South Shore (Poipu Beach)
Poipu Beach, the centerpiece of Kauai's South Shore, regularly shows up on those lists of best beaches in the world. A winding crescent of white sand with rolling waves, this was the playground of the ancient Hawaiian chiefs. It remains one of the most picturesque spots and most friendly places in the islands (no mean feat, as everywhere vacationers go in Hawaii, they are greeted with warmth).

The highly endangered Hawaiian monk seal must also feel the friendly vibes because about 25 of the total population of 1,300 left on the planet claim Poipu Beach as their home. And when an adult seal "hauls out" onto the beach to rest, which happens frequently, or when a mommy seal retreats to the sand to give birth, a large area is roped off so she can have some privacy, and volunteers from the Kauai Monk Seal Watch Program arrive to keep guard and to share stories with the tourists who gather. This is never a problem space-wise because there is enough sand for everyone at Poipu. It's a great spot for all family members because you can hang out at the beach, rent a boogie board or take surfing lessons, have a casual lunch at the famous Brennecke's (eat upstairs overlooking the ocean), wander among the nearby shops and restaurants, or trek the couple of miles into historic Koloa Town. A few years ago on another vacation, my luggage was left at LAX, and I spent three days in Poipu wearing nothing more formal than a T-shirt and a sarong. That attire was perfect, day and evening.

Where we stayed
—There is something about the Sheraton Kauai Resort — "no building taller than a mature coconut tree" — with its open-air verandah lobby constantly cooled by ocean breezes, that has you feeling you could move in forever. On the Poipu oceanfront for some 30 years, the hotel went through a major renovation a few years ago and now offers all the luxurious amenities of the brand, but has managed to retain its laid-back feel. The resort has also been recognized for its commercial recycling efforts.

Kids 17 and under stay free in their parents' room, and more than half of the 412 resort rooms can be connected. All rooms have mini-fridges, Sony PlayStations, and coffee makers, and there is an on-property coin laundry. The Keiki Aloha Club, for ages 5 to 12, offers half- and full-days, and kids can take ukulele lessons, try coconut bowling, whip up tropical fruit smoothies, go whale spotting (November-May), and hear of the legends of the mischievous Menehune (the leprechauns of Kauai!).

Open to all, each Wednesday at 6pm there is an educational presentation on the endangered Hawaiian monk seal.

—No matter where you go in Hawaii, the grandest places still manage to exude a warmth and casualness, a feeling that whatever you request, someone will cheerfully accomplish it for you. Such is the case at the majestic five-star Princeville Resort. The vast, sweeping lobby adorned with huge bouquets and beautiful antique pieces makes you feel for a moment that you've stepped into one of the legendary hotels of Europe, until your eye settles on the back wall of windows showcasing the view that almost takes your breath away — Hanalei Bay.

A perfect crescent stretch of sand with waves rolling in, flanked by mountains that are a doorway to the famous Na Pali Coast — this is the view you can feast on every day of your stay at Princeville. There are garden view rooms; spring for the ocean views, even if you have to take out a loan to do so!

Everything about your stay at Princeville will be memorable — from the beautifully appointed rooms that feature special windows that change from clear to opaque at the flick of a switch; to the crystal-clear infinity pool; to the gourmet island food; to the lobby lounge, showcasing topnotch musicians; to all the activities the Princeville staff can arrange for you and shuttle you to — golf, tennis, biking, outrigger canoeing, kayaking, hiking, sailing, horseback riding, deep sea fishing, whale watching, windsurfing, and touring. You can visit taro farms, catamaran along the Na Pali coast, view waterfalls and lush canyons from a helicopter, horseback ride along the beach — or just sit and watch the sunset over Hanalei Bay.

Princeville's Keiki Aloha Club, again for ages 5-12, operates half- and full-days, June 1-August 31, and December 20-January 4. Kids learn hula dancing, fly kites, build sand castles, explore tide pools — and get to gaze on Hanalei Bay.


MAUI
Latatudes & Adatudes has won awards for its eco-adventures, so we looked forward to joining in on a five-mile hike through the West Maui Mountains. This company keeps groups to a maximum of 12, and our friendly guide, Allison, turned out to be knowledgeable as well as energetic, leading us on a hike rated moderate.

You need to be fairly fit to do this one — there's quite a bit of uphill terrain, and wading through streams over slippery rocks requires some balance. The biggest challenge for me came when we had to cross a river via rope bridge; it was high, narrow and swaying — not the kind of trek that makes me feel comfortable. I was trembling when I got to the other side, and dreading the return journey. But Allison assured me some hikers love this kind of stuff, and that she had had lots of youngsters on this hike. In fact, at the waterfall where we welcomed plunging into the icy water halfway through our trek, I chatted with one dad from California who was there with another group; he reported that his girls, 7 and 10, had done just fine on the trail. They were both gymnastics enthusiasts, as it turns out, and I think that's the key: This is a hike for kids who are somewhat athletic, and game for some uphill slogs and bridges made of rope!

There's nothing like a Maui rainforest hike if you can manage it, however, because the trails invariably take you high over plunging ravines with fabulous views and into territory you'd never be able to find without an experienced local guide. The lush, jungle-like trails are thick with amazing native flora and fruit growing wild on the trees. Allison pointed out what was safe to eat, like the little purple flowers that taste like mushrooms.

At lunch at the swimming hole hidden deep in the mountains, Allison laid out a feast of wraps and juices. To this we added guava we'd picked off the trees, so deliciously tangy you can eat rind and all.

Funny, that swinging stretch of rope seemed shorter on the way back; the first trip over was the hardest. I wouldn't have missed it for the world.

Latatudes & Adatudes offers several different eco-tours, from hiking the Nakalele coast and kayaking along the Kapalua coastline, to a one-mile easy "waterfall experience" walk. They'll also take you into the extinct Haleakala Crater, a Maui landmark and well worth the trek (but it's a strenuous four miles, at altitude). Check out these eco-tours at
www.ecomaui.com. Prices range from $80-$160 person; our five-mile rainforest hike, a six-hour adventure, costs $120.

Where we stayed
— The Sheraton Maui enjoys one of the most magical oceanfront sites in the world. Right on Ka'anapali Beach, the hotel was designed around the famous Black Rock of lava, which juts out into the ocean, providing a wonderland of sea life during the day. You only have to wade into the water here with mask and fins to swim among exotic fish and to actually touch sea turtles. Each night, at sunset, the hotel retells the story of King Kahekili in its nightly Cliff Dive.

The ancient Hawaiians believed this sight, called Pu'u Keka'a, was one of the places where souls of the dead leaped from Earth into their ancestral spirit land. When King Kahekili dove several hundred feet from this lava rock and returned unscathed, his legendary status was sealed. Now, each evening, it is a sight to see as a local "warrior" makes his way to the summit of the rock, lighting torches along his path, before plunging into the sea — to great applause.

The Sheraton Maui with its breathtaking ocean views, sweeping lawns, and beautifully appointed rooms, was named one of the top 25 hotels in the world by Travel & Leisure magazine last year. We would give the resort an extra point or two for its Family Suites, which come with three beds and a sitting room with full-sized couch and two sofa chairs. Two lanais (terraces) connect, and a hidden room divider can be opened to provide privacy for young family members when bedtime beckons. Family Suites also include mini-fridge, microwave, and coffee maker. A Kids Eat Free program allows children under 12 to enjoy free meals at the hotel's open-air Keka'a Terrace buffet restaurant. For kids' club options, see below.

— Nearby, a short beach stroll away, The Westin Maui offers a luxurious Heavenly Spa, with a relaxation lounge overlooking the ocean. Pregnancy Massage is available, as is the rhythmic Hawaiian Lomi Lomi Massage. And a portion of select spa treatments is donated to The Nature Conservancy to support watershed protection on the island.

The Westin also has a Keiki Kamp, available seven days a week, half- or full-days, for ages 5-12. Activities include coconut painting, net fishing, lei making, photo safaris and animal scavenger hunts. A separate Night Program operates each evening, 6-10pm, and includes such after-dark activities as gecko hunts by flashlight and visits to the hula show. Young guests of both The Westin and The Sheraton Maui can attend these kids' clubs ($45 half-day; $70 full-day).

For info on the hotels mentioned, go to www.starwoodhotels.com or call 1-888-625-5144 for the Sheratons, 1-800-325-3589 for Princeville Resort.