Raising a family while building a business is hard enough, but DUMBO-based Lawson Harris and Michael Feigin have the added burden of staying super fit. That's because their business is all about fitness. They are the founders of Half Moon Pilates, which has four studios — one in Brooklyn, one in Manhattan and two in Westchester.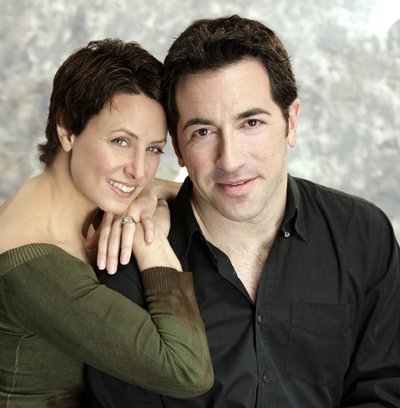 Harris, who was raised in Westchester, and Feigin, who grew up on the Upper East Side, describe themselves as "second-time Brooklynites," They lived in Brooklyn before a brief stint in the suburbs. The couple has two girls, Erica, 9, and Elle, 4.  Harris, a professional dancer who worked on Broadway for 15 years, says the girls enjoy ballet performances but they are just spectators. "We tried with Erica," says Harris, "but it just wasn't her thing." Erica does do Pilates, however.

   And a  favorite family activity is boxing at nearby Gleason's Gym.  The family also takes frequent bike rides and participates enthusiastically in neighborhood activities like block parties.

   Harris and Feigin are so committed to Brooklyn that in January they are opening another DUMBO studio, this one a Fitness Lab with more space.  In addition to Pilates, the new space will offer cardiovascular classes, and what Harris calls "virtual fitness — video games that you play with your whole body."

      She describes Pilates as "a very strict form of exercise, stressing that there really is only one way to do it correctly."  Because of this, and its use of the abdominal muscles and spine in specific patterns, she feels it demands too much of many kids. She does work with children who are dancers or who are training to become professional athletes, explaining that these young people usually have the focus to study Pilates.

   In addition to training clients and instructors, the couple recently debuted The Fitness Guru, a weekly fitness and exercise talk radio show they produce and co-host. The program, explains Harris, advises listeners looking for an exercise program to find their passion; then, she says, "we'll educate you and help you along the path." The program airs on LIME Radio, Sirius Channel 114, on Tuesdays at 7 and 11am, Wednesdays 1am and 8pm, Thursdays 5am, Saturdays 9am and Sundays 11am; it also streams live at www.lime.com.

   "We are real people living real lives," says Harris, "with two small kids and a business to run.  It's not that we wouldn't like to sit in front of the TV and eat ice cream!"  But, she adds, "Half Moon Pilates is not about what you should do, but what you can do."

  Their studio is at 43 Clark Street, Brooklyn Heights, at the Eastern Athletic Club.  Call (718) 625-0500 or go to www.halfmoonpilates.com for more information.  For more information on The Fitness Guru, visit www.fitnessgurunyc.com.