Competitive swimmers and divers are often in better physical condition than their athletic peers. The sport, which provides excellent all-around exercise, also takes real commitment. Read on to find out if it's the right choice for your child.
Every four years, the Olympic Games bring additional excitement to the sport of swimming (next up: London in 2012). But did you know that swimming is one of the best forms of exercise year-round? Swimming tones muscles, strengthens the heart, and improves respiration. Competitive swimmers are often in better physical condition than many of their peers who participate in other sports. Those who become divers will have increased flexibility, body awareness, coordination, and balance. Swimmers and divers will learn leadership skills, as well.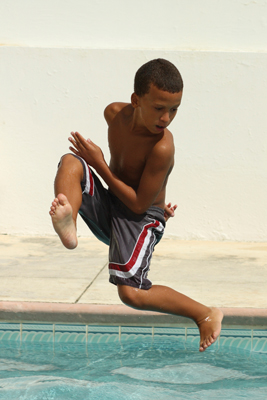 "Swimming is not an easy sport," says Elliot Ptasnik, the director of Imagine School of Swimming and the head coach of the Manhattan-based Makos swim team. "If it were easy, then everyone would do it. It takes focus and commitment to become a great swimmer."
Makos is one of many USA Swimming teams in the New York area. USA Swimming, the sport's governing body, hosts regular swim meets for more than 300,000 swimmers from 2,800 clubs throughout the country. Makos, which began as a swim team two years ago, teaches young swimmers the four strokes used in competition - freestyle, backstroke, breaststroke, and butterfly - through interval swimming and drills. All children who join the team are required to have quite a bit of experience and pass a tryout before joining the team. Like with most club tryouts, children will be required to show mastery of flip turns, racing starts, and be able to meet the time standards that the team has in place. Currently, the team has 70 members ranging in age from 8 to 15.
Fun and Fitness Factors
For young athletes, though, most coaches are more concerned with overall fitness than developing a winning edge.
"At the 92nd Street Y, we try to balance competitiveness with fun and health-related fitness," says Lane Wineski, director of the 92nd Street Y Aquatics program, who coaches children ages 6 to 18. "Of course, we want our Flying Dolphin swimmers to excel and we want the team to have success - but our coaches always foster a supportive and fun environment."
Water workouts, coupled with dry land training that allows swimmers to focus on building core strength and improving muscle development through various strength training routines, prepare the athletes to compete in local invitationals, which are usually held over the weekend for between 150 and 1,000 swimmers.
As athletes improve they compete in their Local Swimming Committee age group championships, which feature the best swimmers in the athlete's state or geographic area. Beyond the LSC age-group championship are the Zone Championships. Theses pit the top swimmers from the Eastern, Western, Central, and Southern zones against each other.
"Talent will only take you to age 12 in this sport, then you have to rely on hard work and having correct techniques," says Ptasnik, who swam at the University of Iowa. "Only focused, goal-oriented individuals who are full of desire will be successful."
Dive Right In
Children who have the same focus can also become talented divers, says New York University diving coach Scott Donie, who also coaches young athletes through USA Diving and was a teaching assistant with first-grade students from 1993 through 1996. Those who have gymnastics, dance, or acrobatics experience often excel in diving.
USA Diving, Inc., the sport's national governing body, is responsible for training, selecting, and preparing teams to represent the United States at the Olympic Games, World Championships, and FINA World Diving Cup. It also conducts programs for junior divers who are under age 18 at more than 300 clubs nationally. In addition to the physical benefits of diving, the sport attracts many wonderful, passionate people that create a family environment, Donie says. Children also learn to overcome their fear of heights or the water and increase their confidence by performing in high-pressure competitions. For children who excel, many college scholarships are available.
There is, of course, the potential for many injuries in both swimming and diving. Smacking the water in a belly flop or hitting the diving board, when the athlete's hands or feet graze the board, are common in diving. Stress injuries can affect the wrists, shoulders, or back, too. Depending on which strokes swimmers compete with, they are prone to elbow, shoulder, knee, and back injuries. Donie, who won a silver medal in 10-meter diving at the 1992 Olympics, and Wineski both encourage others to take up swimming, in spite of injury risk and other hurdles.
"If our swimmers don't leave here as the next Michael Phelps or Amanda Beard, that's perfectly okay," Wineski says. "We hope that they'll have gained not just individual leadership skills, but also the personal enrichment that comes from being part of a team."
Also see: When to Start Your Child in Swim Lessons