Perhaps the tooth fairy hasn't been wrong after all — baby teeth can be valuable and should not be discarded.
Stem cells can come from various sources, including embryos, bone marrow, and umbilical cord blood.  But did you know that stem cells also exist in baby teeth and wisdom teeth? Recent studies have found that they do. And unlike embryonic stem cells, teeth provide a non-controversial source of stem cells.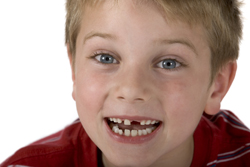 Stem cells found in baby teeth?
In 2003, Dr. Songtao Shi at the National Institutes of Health in Maryland discovered dental stem cells in his daughter's baby teeth.  Since then, many scientists around the world have shown that dental stem cells can be coaxed into cells typically found in teeth, bones, nerves, fat, joints, and muscles.  Imagine someday healing your child's broken bone or treating other serious injuries or diseases with stem cells leftover from one of his baby teeth.
With the advent of dental stem cells, companies such as Store-A-ToothTMare providing a service to properly preserve a child's dental stem cells — a sort of biological insurance in anticipation of these cells becoming important as the field advances.
Saving your child's baby teeth
The process starts with a visit to the dentist's office, where the eligible tooth or teeth are collected.  The teeth are then placed in a special transport container and sent to a lab where the tissue is harvested, processed, frozen and cryo-preserved for potential future use.
How much does it cost?
The start-up fee is $699, which includes the first year of storage. There is an annual charge of $120 for storing the teeth each year after that. A 20-year plan is available for $2,379.
Why is this something to consider?
Collecting stem cells from teeth is a convenient, accessible, and relatively painless process compared to other ways of collecting stem cells.  It is less expensive than alternativemeans of adult stem cell banking, and the teeth would otherwise be discarded.  Cell-based therapies work best if the cells 'match' the person treated, and using your own cells guarantees a match. 
Although there are no proven clinical applications of dental stem cells, these cells have been shown in the lab to regenerate many different cell types.  Some of the earliest applications may be in regenerating or repairing bone or teeth.
Is this different from stem cells taken from cord blood?
In some ways, dental stem cells and umbilical cord blood are similar.  Both are adult stem cells, so there are no ethical or moral issues with their collection and use as there are with embryonic stem cells.  Both are processed and cryo-preserved for potential future use. Some differences include the types of cells they are capable of forming; cord blood typically forms cells of the blood system, while dental stem cells can regenerate cells typically found in or associated with teeth, bones, nerves, fat, joints, and muscles. 
How to learn more
Briarcliff Pediatric Dentistry, in Briarcliff Manor, will launch the Store-A-Tooth service this month, and is hosting free information sessions on Wednesday, September 17, and Saturday, October 4. Store-A-Tooth representatives will present information about the history of dental stem cells, the Store-A-Tooth service, and the potential benefits. A discount for the service will be offered to those who attend. To register for a Store-A-Tooth session, contact 914-762-4151 or sign-up online at www.store-a-tooth.com/bijoor.
Renuka Rao Bijoor is the owner of Briarcliff Pediatric Dentistry and a Board-certified specialist in pediatric dentistry. She teaches at Columbia University College of Dental Medicine on a part-time basis, and is affiliated with Phelps Memorial Hospital in Sleepy Hollow, where she provides hospital dentistry for very young children and patients with special needs.