xIf the Thanksgiving holiday conjures up images of mountains of food and over-indulgence, why not start a new tradition in your home? The best way to encourage your children to develop healthy eating patterns is by setting a good example as a parent. This means filling your Thanksgiving table with tasty, healthful appetizers and entrees. It also means not making "over-indulgence" the standard. By following some of these tips and recipes, you can have a fun, happy and healthy Thanksgiving holiday.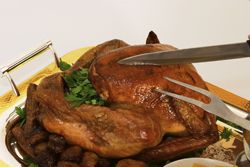 The Main Event
Turkey
Turkey breast is a terrific source of lean protein and B vitamins. To avoid excess fat, remove the skin and choose light meat over dark meat. As always, remember that portion control is key. For adults and children over age 5, 5-7 ounces of turkey breast should be enough to satisfy without adding excess calories. This is roughly equivalent to the size of two decks of cards.

Healthy Side Dishes
Sweet potatoes
Sweet potatoes are a great source of beta-carotene, vitamin C, vitamin E, potassium and fiber. Keep this dish healthy by omitting the butter and excess sugar. Instead, use orange juice and a sprinkling of brown sugar for flavor. A 1/2 to 1 cup serving is ample for most adults and children.

Green vegetables
It's hard to go wrong with greens if you keep them simple. Be sure to steam or roast them, and skip the butter. For extra flavor, just add some garlic and drizzle a tablespoon of heart-healthy olive oil. Greens are packed with vitamins A, C and folic aid, plus they are very low in calories. If you want to indulge, this is the place: 1-2 cups of greens is an adequate serving size.

LOW-FAT GRAVY
Gravy is known for being high in saturated fat and calories, but it is possible to make a lower fat version by straining the fat from the drippings and using flour to thicken instead of a roux.
Yields 4 cups
Ingredients:
Pan juices from turkey
1/4 cup flour
4 cups fat-free, reduced-sodium chicken broth
4 tbsp white wine or dry white vermouth
ground black pepper to taste
Directions:
While your cooked holiday turkey is resting, strain the pan drippings and pour into a gravy separator. Place roasting pan on stovetop over a medium heat. You will likely need two burners. Sprinkle flour into pan and stir until golden brown. Reduce heat to low. Return defatted drippings to pan, add chicken broth and wine. Stir with a whisk until blended. Turn heat back up to medium and cook, stirring constantly, until gravy thickens. Season with black pepper if desired. Serve warm.

CRANBERRY SAUCE
Cranberry sauce is both fun and simple to make, and with this recipe you can cut down on the added sugar while keeping all the taste. Cranberry sauce is naturally cholesterol-free, packed with Vitamin C, and also gives you a fair amount of dietary fiber.
Yields 3 cups
Ingredients
2 cups fresh cranberries
1/2 cup apple or orange juice
1/4 cup honey
1/2 grated orange rind
1/2 cup of chopped pears
Directions
Mix cranberries, juice, and honey in a pot. Cook on low heat for about 5 minutes, until cranberries pop. Remove from heat.
Stir in orange rind and 1/2 cup chopped pears.
Let cool at room temperature, then refrigerate or can.

KATHERINE BROOKING, M.S., R.D., is a nutrition counselor and writer. She sees adults and children in her private practice in Manhattan and Katonah. She can be reached at (917) 620-5244 or [email protected] Visit her website at kbrookingnutrition.com.