Whether for a birthday or a fun summer soiree, serve these mini watermelon cupcakes for a healthful, hydrating, and delicious snack.
Watermelon Cupcakes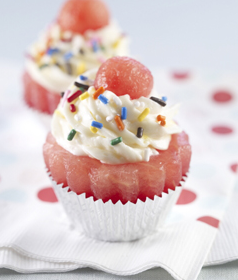 Servings: 8
Ingredients
- 8 pieces cupcake liners
- 8 pieces cupcake shaped pieces of seedless watermelon
- 2 cups pineapple cream cheese frosting
- 1 piece sprinkles for garnish
Directions
Place the liners in an 8-cup cupcake tin. Cut 3-inch thick slices of seedless watermelon. Cut round cupcake sized pieces from the slices. Put a watermelon 'cupcake' in each liner. Place a dollop of frosting on each cupcake. Decorate as desired with sprinkles.
Courtesy watermelon.org.
For more information on America's favorite summer fruit, check out these articles from NYMetroParents:
How to Select and Store the Perfect Watermelon
Family-Approved Watermelon Recipes