Back-to-school means parents and kids are heading back to the drawing board to determine how best to keep track of the stuff — school supplies and sporting equipment, books, bags, boots and electronics.  How do you make sure what could be lost stays found?  Label it!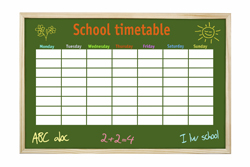 —Plan the kids' weekly wardrobes together.   Use a canvas shoe cubby to store outfits, and label each cubby with a day of the week.  Include everything from underwear to socks and T-shirts.  You'll save a lot of decision-making time in the mornings while still making kids feel like they're part of the process.
—Create a central place for papers that need Mom's or Dad's attention.  Place a clearly labeled magnetic wall file on your refrigerator door for important papers you need to sign.  Make this filing system part of the end-of-day routine.
—Use iron-on clothing labels to identify gym clothes, uniforms and jackets.  In families with multiple children, use last names only so items can be handed down to younger siblings. 
—Give school lockers a personalized touch with magnetic labels.  Keep the school custodian happy!  Encourage kids to use magnets instead of stickers or markers to personalize their lockers without leaving a permanent mark.  Magnetic labels let them create "removable graffiti"!
—Keep your kids' masterpieces in one tidy place.  Instead of letting the souvenirs from art class pile up or be accidentally thrown away, label bins for each child to put their artwork in.  At the end of the year, you can make a portfolio for each child's work — or even create a gallery!
—Create a "drop off nook" at a convenient location. A coat hook or rack and labeled storage bins are all you need.  When kids get home from school, encourage them to hang their coats and place book bags and lunch boxes in the appropriate bins.
—Laundry, laundry everywhere!  In the laundry room or in kids' rooms, label separate bins for each child's clothes and sports gear.   Encourage kids to put their dirty clothes in the bins instead of on the floor to cut down on time spent searching and sorting. 
—Keep "emergency breakfast baskets" in the kitchen. Label a basket for each child and stock it with healthy foods kids can eat on the go.  This will come in handy on "meltdown mornings" when everyone is running behind.
—Create a central calendar. Hang a large one in a common area and use colored plastic labels to color code appointments and important events for each family member. 
LINDA KOOPERSMITH is the former co-host of the Style Network series, 'Clean House' and a spokesperson for DYMO Personal Labelmakers (www.dymo.com).