City mom and online boutique owner,
Jenn Cattaui
, has taken an unusual route to the business world. She was a tax lawyer, a magazine editor, and a Parisian ex-pat before settling downtown. Cattaui's creation of a self-professed "hip boutique" came about when she was out strolling with her infant daughter and a tank top with an interesting graphic caught her eye.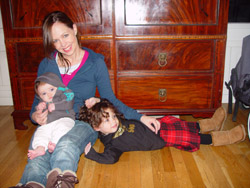 Jenn Cattaui with her girls

Cattaui tracked down the designer, who happened to live in her neighborhood, and then began a more extensive hunt for baby clothes with a modern esthetic. The result,
Babesta.com
, offers, "cool threads and more for trendsetting tots."
At the website, you can "shop by attitude" in the categories of -rock star, sweet & chic, sport-politico, retro modern, or just plain cool. In addition to tees and onesies, there are toys, crib bedding, books and CDs. And as we went to press, the Cattauis (Jenn runs the business with her husband, Aslan) announced the opening of the Babesta Tribeca store — at 66 West Broadway, corner of Warren Street.
The Cattaui daughters, Amina, 3, and Camille, seven months, are the beneficiaries of their mom's fashion savvy. But her kids also inform her wardrobe education. "Amina has definite opinions on everything in her closet. She has taught me many practical things to look out for when bringing on a new design," acknowledges Cattaui. "The cotton has to be soft. It can't have itchy tags. It must wash and wear easily — she's active! Everything that I bring into the store meets the kid-test, meaning, it's not only stylish, it's also really practical for a kid's lifestyle."
Recently, David Brooks blasted 'hip' parents in
The New York Times
. Cattaui feels that's all "much ado about nothing," adding, "'Hip' parenting is really 'modern parenting'. I think he got caught up in imagery. This makes for fun-to-read copy, but the reality is that these emblems of the modern parent — skull booties, and even tees with references to blogs — only reflect the fact that there is a lot more choice on the market. Many of these choices depict a cultural moment, as fashion does. Choice is good. It can't all be about ducks and bunny rabbits." Cattaui notes that most of the new styles she features have been designed by her generation of parents, people who were reared on similar childhood icons, including Bon Jovi, Duran Duran, and the Rubik's Cube. She says she has found that parents appreciate more choice in the baby market, and respond to clothing and accessories that "speak" to them.
This is a concept that is evident in Cattaui's household. "Amina loves her wardrobe and she loves getting dressed. Some days it's rock tees; she chooses them because they are comfortable and easy to play in, and they make adults coo — especially her Doors T-shirt and her "
50 Pence
" hoodie. She occasionally requests her fairy wings to go with her black pearl tee. Every once in a while she pulls out a girly dress from her closet. I don't limit her. I love to see her experiment with things, and I love to see what she gravitates to. Right now, her favorite is a Harajuku Lovers hoodie adorned with kitties, a bright yellow 'happy' piece." Cattaui's fashion advice to parents is to "dabble". "Let your kid wear a Jimi Hendrix tee on Monday, and then put on fairy wings on Tuesday. A shirt with an inane slogan can be fun every once in a while."
To see Cattaui's line, go to
www.babesta.com
. Tribeca residents can get their purchases hand-delivered the day they order in-stock items.