Like many moms in Westchester, Gail Cutler of Larchmont faithfully attends her weekly playgroup.  By 10 am every Saturday, she has packed her two children and her diaper bag into her car, and is armed with snacks, extra diapers and a change of clothes.  What makes Cutler's experience different from most is that more often than not, her husband Richard accompanies her to their two-parent playgroup with local friends and their children.
  As parents are working longer hours during the week, time on the weekends becomes more precious, and as a result, more chaotic.  Trying to fit the household chores, children's activities, social events and time together as a couple is a daunting task.  The playgroup, once a staple for a new mom looking to make friends, has expanded to include fathers, who on weekdays leave for work early in the morning and sometimes aren't able to be home by bedtime, much less for family meal time.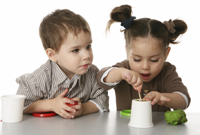 "The playgroup is an opportunity for the kids to see their fathers," says Gail Cutler, "both as a parent and in a group social situation."
  For Richard Cutler, a portfolio manager who often works 50-plus hour weeks, the chance to see his two kids in social situations with other kids is invaluable. 

  "The playgroup is great for Rich, since he can witness our kids in social situations first hand, as opposed to me just reporting to him on their behavior and development," says Cutler, who adds that her husband's attendance provided a benefit for her.  "When I was attending playgroup alone, I found I was spending all my time just monitoring the children.  Now that my husband is there with me, I can actually catch up with my friends as well," she explains.   
  The extra set of hands is also a benefit for Jennifer Prescott of New Rochelle, who attends a two-parent playgroup with her husband Christopher.   
 "There are more parents to handle the children so there are just more hands on deck," she says.
  "Having another parent around makes it easier on everyone."  
  Prescott enjoys the dads-included playgroup because she likes the vibe the men bring to the group.  "I am someone who has always had a lot of male friends," she says, noting that both her bridal and baby showers included both her men and women friends and colleagues.    
  Prescott believes playgroup dads make the experience more pleasant and laid-back.  "I feel like the energy is different when the men are there," she explains.  "I think when just the mothers get together they do tend to worry more about their kids.  The dads bring a fresh perspective to the group, and their presence really changes the dynamic in a positive way."
   Prescott sees it as a great chance to socialize with their friends and neighbors in a casual environment.  
  "For Chris and me, it's an opportunity to have a cup of coffee and relax a bit," she says.  "We're all still focused on our kids, but it's not the same as being home with the kids alone — the group makes it fun."
   For the dads, playgroup can be a social outlet.  Erik Mathieson of Larchmont, who also participates in a two-parent playgroup, says he began attending as a social event for all four family members.  
    "
  We started meeting in the winter, when the kids, as well as my wife and I, were stuck inside and were getting cabin fever," he recalls.  
  Mathieson was a relatively new resident in town, and was looking to meet other dads in the community. "I didn't have another social function that let me meet other guys in town," he explains.  
  As a result of the playgroup, his relationship with the other dads has expanded beyond the Saturday morning to include a beer after work and weekend golf.  Mathieson says that while the kids are a large topic of conversation, the dads usually discuss current events, work and home renovation projects. "Many of the guys in the playgroup work in the financial services industry, so that is a natural topic of conversation," he says.  "And all of us work on our homes."  
  If there is a downside to the weekly playgroup, "it does prevent me from doing the chores around the house," Mathieson confesses. "But I enjoy getting some quality time with my boys, and quite frankly, I can always do the chores."   
  It's the opposite for the Prescotts who find that playgroup helps them be more productive.  "It gets us up and out of the house and gets our Saturday started," says Jennifer Prescott. "Usually after we leave playgroup, we'll go to a park, run errands or go grocery shopping.  We're geared up for the day, since, thanks to playgroup, we always have enough coffee in us."