He's an Oscar-winning actor. But almost as well-known is Denzel Washington's support of the Boys & Girls Club of America — an organization he credits for setting him on his path to high school graduation, college and stardom.
   Washington, who grew up in Mount Vernon, joined the local Boys Club at age 6 and soon learned that what was important "wasn't your talent, it was the way you put that talent to use — through hard work and discipline." He is now a board member and national spokesperson for the organization, and he recently came to New York to join a panel discussion, "Call to Action", saying children today face "a crisis of unprecedented proportions"  when it comes to violence, drugs, gangs and out-of-wedlock births.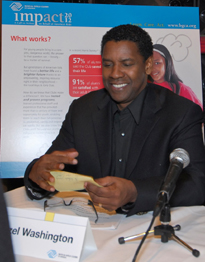 Washington, father of four, says leaders at his club "planted the seed early that we should dream big."  He cited a display of pennants from different colleges as a tangible proof that he could succeed in life; his two Academy Awards are further proof.
   He notes that Boys & Girls Clubs are thriving in places with the greatest need, with over 425 clubs in public housing complexes, and on Native American lands.  But he feels that "we, as a nation, and specifically, we, as adults, have fallen short." 
   Another Boys & Girls Club alum, and Academy Award-winning actor, Cuba Gooding, Jr., also spoke at the BGCA Call to Action. Gooding, born in the Bronx, noted that while his three children lead privileged lives, the most important gift they get is that of structure.  "Every moment of the day is accounted for" in his children's lives, so they cannot "hang out."  It was the structure he found at the BGCA, says Gooding,  that helped him channel his energy productively. 
    The Boys & Girls Club is making teen outreach a priority, emphasizing academic success, and establishing new clubs in areas identified as having the greatest need. "We can do better.  We must do better," Denzel Washington asserts.
   For more information, go to
www.bgca.org
.