If you think that Internet blogging is just for the younger generation, take a look at "designmom" — a blog begun by Tuckahoe mom of five, Gabrielle Blair.

   Blair's blog gives readers a peek into the maternal world as she sees it — through the lens of a designer. She offers everything from decorating advice, to gift ideas, to contest giveaways, and invites guest moms with their own expertise to contribute.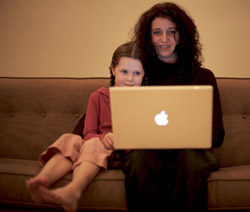 Mom and daughter, blogging in Tuckahoe
——————————————————— 

   An avid blog reader herself, Blair started her own this past July as an experiment, and to her surprise, it grew exponentially in only a few months, and continues to grow every day. She currently averages 400 readers a day, up from 200 only a few weeks ago. She now has people asking for design advice, offering to design websites or stationery, and requesting to write product reviews. "My personal goal right now is to see how big I can get this, because the bigger it gets, the more opportunities that present themselves," she declares.

   The key to Blair's blog success has been her ability to offer a unique perspective into her life as a designer/mom. She currently works as a freelance graphic designer and art director, but her eye for the classical, functional or stylish seeps into every aspect of her life. "I think about what my kids put on, what music we listen to, what books we have all — through the lens of my design training. So I decided to blog about something I know."

   Some of the most popular areas have been the Q&A entries, guest mom bloggers, and a full month of contest giveaways, where companies donate chic and functional products, like stationery, household items, and clothing. She makes entering easy by just asking readers to make a comment. On many blogs there seems to be pressure to say something intelligent or humorous, but Blair makes it clear that's not what she wants. "You can say gibberish and it doesn't matter," she says. "It's very freeing to feel you can comment on anything. And once you've gotten them engaged, you are likely to have a new reader."

   "Ask-design-mom" also opens up the channels of discussion. Questions range from, "What should I get my male boss for Christmas?", to "Do you have any ideas for a creative, urban family photo?", to Halloween costume ideas.

   Other favorite entries have involved creative ideas and advice, such as an art project made with recycled crayons, party ideas for a 5-year-old, and how to get Sharpie stains out of a new couch (turns out, all you have to do is just scrub and scrub it until the stain comes out, or your arm falls off).

   With five kids, how does Blair have time to work, design, and blog? Good time management in her case comes from having three helpful, slightly older kids (9, 7, and 5) occupied in school all day, and to both her and her husband growing up in large families. "Our chaotic house is normal to us. I don't pretend that things don't fall through the cracks; they absolutely do." But somehow, in the midst of all the chaos, she still manages to set aside a half-hour to an hour every evening after the kids go to bed for her blogging time.

   The benefits to blogging can be enormous. For Blair, not only has it been fun and a driving force in her career, but a great way to keep in touch with friends and family. Many of her family members have blogs themselves, including her husband and her sister. In addition, her extended family members — like aunts, uncles and even grandma — check her blog all the time. "Instead of just getting a Christmas card in the mail or seeing them once a year, I have contact with them a few times a week. It's a great way to feel connected in a way that we never would over the phone. Plus, when you have kids, you tend to get wrapped up in your own world and can't spend as much time on the phone."

   One casual friend kept a blog after relocating to San Francisco. Under normal circumstances, says Blair, they probably would have never spoken again, but because of their blogs, they actually feels closer to each other now. They constantly learn new details about each other's lives, communicated by their blogs. Blair also has 10 to 15 neighbor moms who read one another's blogs. One mom, who loves to cook, posts her dinner menu for the week. Another mom, who was an education major, details her lesson plans with her homeschooled son. "Everyone has their own angle," Blair explains. "It's a window into their world."

BLAIR'S TIPS FOR GETTING STARTED
   For any parents who are interested in developing their own blog, Gabrielle Blair has some great advice to get started:

1. Initiate yourself: Blair admits that it can be intimidating to put yourself out there, so she recommends initiating yourself to the blog world by making simple, two-word comments on other people's blogs. For example, "That's cool," or "Great idea!"

2. Don't wait until it's perfect: Being a designer, Blair tends to want everything to look perfect, but with a blog, you can always change it later, so stop waiting for the perfect idea or best-looking template. Just pick a basic template, and get started! Revise and upgrade later.

3. Publicize: Send an email out to all of your friends and family telling them that you've started a blog. Knowing you have readers will give you the necessary pressure on yourself to get material out there. Just start with two or three entries before you send the email.

4. Expand: If you want your blog to be read by more than just friends and family, start thinking of an angle. What is your expertise? What advice can you provide? "Give a unique perspective into your life or career," Blair says, "kind of like the advice that writers get, 'Write about what you know.'"

5. Be consistent: Just set aside 10 minutes a day to blog or jot down ideas for the next day's blog. Once you're sitting down, you'll probably keep going until you're done.

6. Keep the ideas coming: If you feel like you're running out of ideas or going through a dry spell, start looking through magazines, catalogs, and other blogs for inspiration. Just remember to credit the source!

   In other words, the key to success is to blog what you know, blog as you go, and don't get blogged down by the details!

   Check out Gabrielle Blair at designmom.blogspot.com. To research creating a blog, look through all that comes up when you type in "how to start a blog" in a search engine!