Imagine … after a long day at work, you step off the train, and like magic, dinner appears! Two Westchester moms are making that little dream a reality.
   Now, when you get home after your commute,
Dinner in Hand
can have dinner there waiting for you.  In Southern Westchester, they deliver gourmet meals right to your doorstep, between 5pm-9pm on weekdays.  Or, over in Scarsdale, you can spend an hour or two cooking up a storm at
Let's Dish!
, and then stockpile your freezer for the week ahead.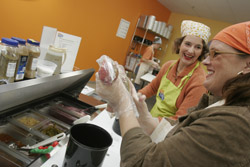 Cooking loves company at Let's Dish! in Scarsdale

   Two years ago,
Candida Canfield
, a New Rochelle mom, was commuting home from her job as a marketing executive in New York City, planning dinner for her son.  She wondered, "Where are all the caterers at the train stations?"  Since Canfield loves to cook, she thought about starting a home catering business.  After she tested the concept with families, she realized "the idea was far too big to do out of my home. I realized I couldn't do it by myself."
   So in February, she started
Dinner in Hand
as an e-commerce business. "We want to give people a healthy alternative and make life easier," Canfield puts it simply.  Customers register online at
www.dinnerinhand.com
.  Then they specify any dietary restrictions and pick their meals online.  Meals must be chosen by midnight the night before in order for them to be delivered the next day.
   In a rented commercial kitchen, executive chef Stacy Bergman, former executive chef at Neiman Marcus, cooks the meals and refrigerates them.  The meals are delivered to customers that same evening.  All they have to do is heat them up. 
   Menu choices change seasonally, and include such options as maple and soy-glazed salmon, stuffed chicken breast, and spaghetti and meatballs. Chefs use healthy ingredients, produce from local farmers in the summer, and fish that is not threatened by overfishing.  Says Canfield, "I won't feed the customer anything I won't feed my family."
   Dinners come with a protein, starch, and vegetable and cost about $15 an entrée ($4.50 per delivery).   A three-month membership is $36 with unlimited delivery.  The first two weeks of home delivery are free.  Now Canfield hopes to expand her business throughout Westchester.  
Let's Dish!
is another Westchester food option helping busy people get dinner on the table.  In 2003, the company was started by Ruth Lundquist and Darcy Olsen in Minneapolis, and has since spread all over the country.  In September, 2006,
Therese Hunersen
opened her first franchise in Scarsdale, and will open two more in Westchester over the next 18 months.
   Like Canfield, Hunersen was a busy Westchester mother trying to figure out what to put on the table for her kids each night.  While she was driving home from her educational foundation job, she heard a segment on NPR about
Let's Dish!
.  "By the time I got off the Hutch and walked through the door, I had convinced myself that this was what I wanted to do," she says.
Unlike Dinner in Hand, where all the cooking is done for you, Let's Dish! is a meal-preparation store where they provide all the ingredients and recipes so that you can prepare meals on-site.  Brightly designed with clean, stainless steel workstations and helpful staff, Let's Dish! is a pleasant atmosphere to cook or "dish" in.
   "It's a great thing to do because you are accomplishing something and having fun at the same time," says Hunersen.  First, you sign up for a session online, then choose the menu items, and finally, prepay at the company's website,
www.letsdish.com
.  "We love it when everybody signs up," Hunersen admits, "but if you call me and say 'Can I come and dish?' we are not going to turn you away."
   There are refrigerated workstations where the ingredients are in containers: pre-chopped, diced, or sliced.  All you have to do is measure the ingredients and follow a simple recipe.  Then you go home, and can cook or freeze your meals.  The best part: no cleaning up.  In a two-hour session, you can make 4, 8, or 12 six-serving meals. 
   "Dish and dash" is when you order a meal online (before 1pm the day you want it), and the employees will "dish" it for you.  Then you pick it up at the store.  You can also pick up an entrée from the store freezer.  If you "dish", the cost of 4 six-serving meals is $90.  If you "dish and dash", it's $105.
   Everyone's getting into the fun of it at
Let's Dish!
; women, couples, and even corporations are having food prep parties at the facility.  The night I visited, a Moms of Multiples group was making food for their families.  Joey Silberfein, a Scarsdale mother of three who works at a law firm in Manhattan, was "dishing" with her mother. "
Let's Dish!
is heaven sent," declared Silberfein.  In a half-hour, you can make a variety of meals for your family."
   There are many items on the menu, which change monthly, such as chicken with mushrooms in an artichoke and white wine sauce, and mozzarella-stuffed Italian meatloaf.  There are heart-healthy meals, and nutritional information for each dish can be found on the website.  The staff will work with customers to accommodate other dietary restrictions. Hunersen helped me "dish" beef tips with a bourbon glaze which were delicious and easy to cook. You can find
Let's Dish!
at 450 Central Park Avenue in Scarsdale.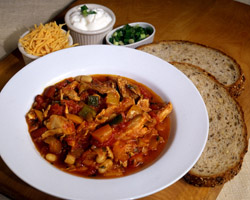 Chicken chilli is typical of the great family meals you can have delivered from Dinner in Hand

ALLERGEN-FREE
   Over 11 million Americans suffer from food allergies, about 2 percent of adults and 6-8 percent of children.  For these people, it is difficult to eat baked goods from anywhere but home since baked goods contain the most common food allergens.  Now there's
Divvies
, a specialty bakery in South Salem that produces cookies, cupcakes, and popcorn that are free of the top four allergens: milk, egg, tree nuts and peanuts.  The bakery was started by Pound Ridge residents
Lori and Mark Sandler
, who have their own first-hand experience with life-threatening food allergies. Their youngest son, 8-year-old Benjamin, was diagnosed with milk, nut, and egg allergies at birth.
   Over time, Lori, a former marketing executive, watched eating become a very "exclusive" experience for her son, especially at birthday parties.  This is when she came up with the idea for the bakery. Now Benjamin and his friends can "divvie" up their treats and share them.
   For 3-year-old Lindsay Hall, who has multiple food allergies, "finding treats is difficult," says her North Stamford mom, Kim. "Milk is in every cookie.  Now when we go on playdates, we bring Divvies cookies." This keeps Lindsay safe and feeling included.  Divvies' products are available online at
www.divvies.com
or by phone at (914) 533-0333.  They are also available at gourmet shops.  Recently, Divvies began working with Disney in Florida and will soon have cookies, popcorn and candy in 15 locations in the Florida Parks.