DISNEY'S TALKING PUPPIES TAKE A HALLOWEEN ADVENTURE IN THE NEW 'SPOOKY BUDDIES' DVD
Related:
spooky buddies
,
buddies halloween movie
,
disney halloween dvd
,
talking dogs halloween DVD
,
The quintet of irresistible talking puppies -- Disney's loveable Buddies -- are back for a ghoulish good time in an all-­new Halloween-­themed adventure, "Spooky Buddies," available on Blu-ray Combo Pack ($39.99), DVD ($29.99), and Movie Download ($39.99 for high-def; $29.99 standard definition).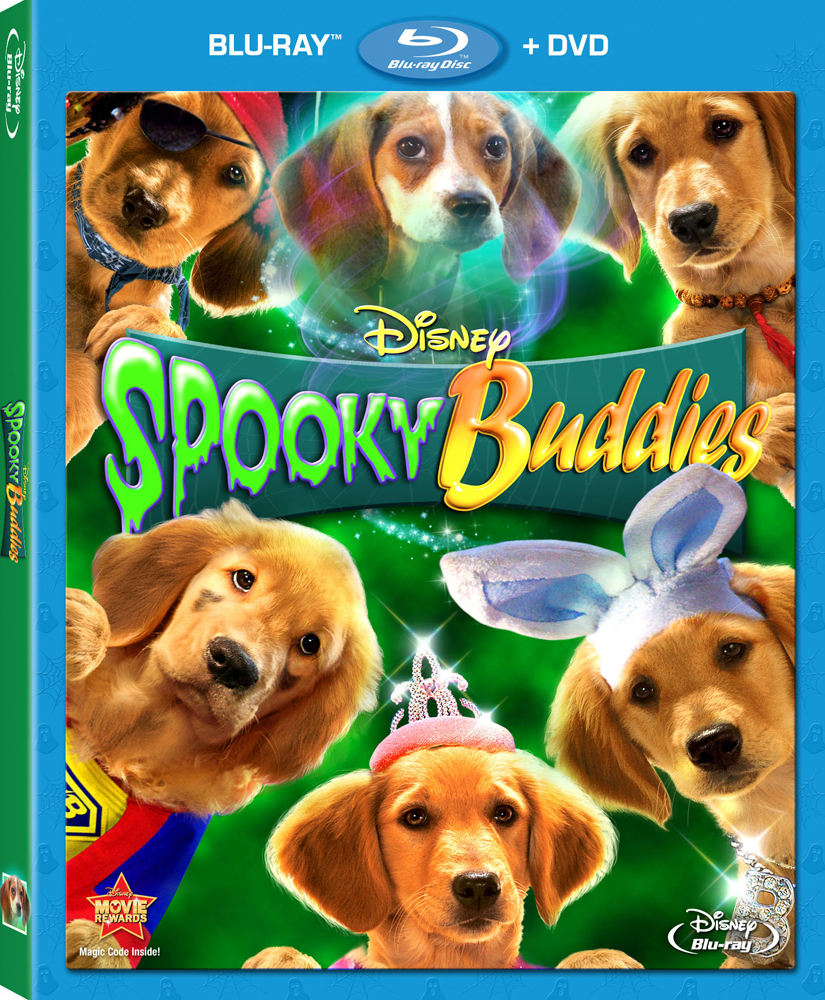 The Buddies films, featuring talking pups B-­Dawg, Budderball, Buddha, Mudbud, and Rosebud, are full of action, laughs, and fast-paced adventure. In this latest full-length movie caper, Spooky Buddies, the lovable canine clan find themselves in a mysterious mansion, with no less than the fate of the world hanging in the balance. In a race against the mysterious Howlloween Hound, the Buddies and some new friends -­-­ Pip, Zelda, Rodney, and Skip -­-­ must stop Warwick the Warlock to save the world from his dastardly deeds. Their brave exploits in this trick-­or-­treat adventure highlight the importance of friendship, courage, and teamwork.
The film stars the voices of Diedrich Bader, Ryan Stiles, Debra Jo Rupp, Tim Conway, and Frankie Jonas, to name a few.
Bonus Features
- DIGS: Rosebud Edition: Leo Howard of Disney Channel's "Leo Little's Big Show" interviews Rosebud, the only female pup in the Buddies litter, as she invites viewers into her
dream home for an exciting tour.
- All-­New Music Video: Monster Mash: A fun new Hip hop cover of this Halloween classic introduces the popular song to a new generation of trick-­or-­treaters with a high-­energy new routine performed by Davis Cleveland, Adam Irigoyen, and Kenton Duty from the cast of Disney Channel's "Shake It Up."
---
Get Your FREE Indoor Activity eGuide!
---
More PRODUCTS Articles
Holiday Fashions for Boys and Girls
Photographer Behind Humans of New York Releases Children's Book
New Book Encourages Kids to Give Up Halloween Candy
Runnin' Wild Kids Shoes Owner Opens Toy Store
Top 10 Audiobooks for Halloween Season