Roadside Attractions'
Battle for Terra
, the new the sci-fi, CG-animated movie for kids, is here! In the film, what's left of Earth's human race sets its sights on the peaceful and harmonious planet, Terra.
   Mala (the voice of Evan Rachel Wood), a rebellious but bright Terrian teenager, will do everything she can to stop the invasion. She knows that the last humans have exhausted the resources of their planet and those of two others, and are now searching for a new home. This homeless "Earthforce" has discovered that the use of a machine-like "Terraformer" will make Terra habitable for humans but poisonous for Terrians.
    During the mayhem and destruction that ensues, Mala forges a friendship with Jim, an injured human pilot (the voice of Luke Wilson), and his personal robot, Giddy (the voice of David Cross). They soon learn that their races are not as different as they'd thought. Together, they face the reality that in a world of limited resources, war is necessary and only one side may survive unless they can combat the dark political forces that will stop at nothing to achieve power for power's sake.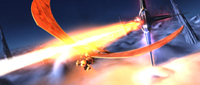 While
Battle for Terra
is above all a family-friendly animated movie, real issues are raised, and compelling underlying social and environmental messages are woven throughout the story. "One of the reasons humans were forced to abandon Earth in the film is that they exhausted their natural resources," explains director Aristomenis Tsirbas. "Since a large portion of the film's audience will be kids, it was important to me that the idea of conservation be included in the story. We're leaving the next generation an Earth that most respected scientists agree is going through an increasingly dangerous human-generated environmental change.
Battle for Terra
presents a worst-case future scenario: an inhospitable Earth that forces our race to look elsewhere in the universe for a home."  
Terra
also addresses the notion that the possibility of peace between races is a matter of choice, compromise, and sacrifice. And it acknowledges that nuclear warfare is a reality and has the power to bring about the eventual destruction of the human race.
   Keith Calder, one of the movie's producers, says that great sci-fi hits close to home and is grounded in reality. "We have always considered
Battle for Terra
a family film and thought that the preservation of our planet is an important topic of discussion for families everywhere," he says.   
Battle for Terra
is an out-of-this-world journey to places people have only imagined, complete with eye-popping 3-D effects. It is a story of friendship, family, sacrifice, war, and most of all, the realization that the survival of us all depends on our earth's precious natural resources.
   Opening May 1 and rated PG, the animated adventure also features the voices of Brian Cox, Justin Long, Amanda Peet, Dennis Quaid, Chris Evans, James Garner, Rosanna Arquette, and Chad Allen. Check your local movie listings for show times, and visit
www.battleforterra.com
for clips.