From more traditional local Easter egg hunts or Easter Bunny meet-and-greets, the New York metro area has many places for families to enjoy fun Easter events for kids.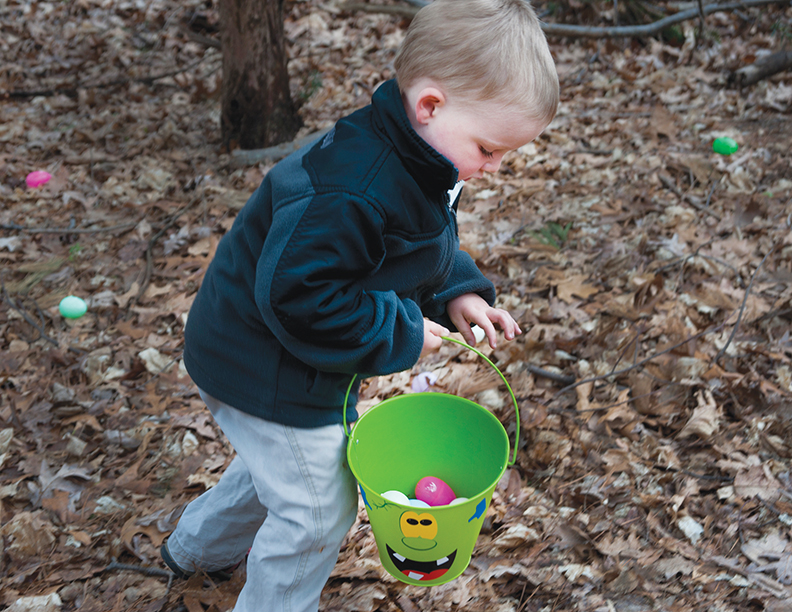 Easter's right around the corner and chances are you're on the lookout for some family fun. Whether you want a more traditional backyard-style egg hunt or scavneger hunts with a wild dino flair, there are a ton of fun Easter egg activities to enjoy in our area. We've rounded up some of the best low-cost Easter events that are bound to delight the whole family.
New York City
Manhattan
In addition to a fun, safe egg hunt, children in third grade and under can enjoy face painting, carnival style games, and photos with the Easter Bunny. No need to preregister. April 12. 2-4pm. FREE.
Jump right into the fun at this free event featuring an egg hunt, egg relay race, egg painting contest, arts and crafts, and pictures with the Easter bunny. There will be many great prizes and fun activities for all participants. April 19. 1-4pm. FREE.
Children ages 3-12 can search for more than 500 eggs hidden throughout the hotel lobby and outdoor plaza. Each egg contains a hidden treasure. If you recover one of the twelve golden eggs you'll receive an additional prize. Kids can also meet the Easter Bunny from 12-1pm. April 20. 12pm. FREE.
Brooklyn
Hop over to this local general store as they host a backyard egg hunt for the whole neighborhood. While kids are busy searching for eggs, parents can stock up on last minute goodies for Easter baskets. April 12. 10am. Rain date is April 13. FREE.
Bring your own basket and get ready for fun at this old-fashioned egg hunt at McGlorick Park. There's even more eggs than previous hunts, special hunting areas for babies and toddlers, and opportunities to meet the Easter Bunny. Don't forget to buy your tickets before handto avoid long lines. April 19. 10am-12pm. $10.
Join hundreds of little bunnies and their families as they hop around Pierrepont Playground in search of prizes during this annual hunt. Candy, treats, balloons and good friends make this a holiday tradition for many families! April 19. 10am. FREE.
Queens
Take part in an egg scavenger hunt and play old-fashioned games—plus Flora, QBG's mascot, will be making appearances so don't forget the camera. Registration required. April 19. 12-3:30pm.
Spring Eggstravaganza at Queens Zoo
Stop by the Queens Zoo for an egg-stravagant Easter event! Take part in an egg hunt, meet the Easter Bunny and our Flemish giant rabbits, and enjoy a variety of spring-themed activities. April 19-20. 10am-4pm.
Bronx
Kids ages 2-12 hunt for eggs in the formal garden, tap into their talent at arts and crafts tables, and have a photo taken with the Easter Bunny. Light refreshments offered. Please bring your own basket. April 12. 1:30-4pm. (Rain date: April 19. 10:30-1pm.) $12 children ages 2-12.
Celebrate the Easter holiday in dino-mite fashion on a search for graphic dinosaur "eggs." Carefully hidden within the zoos exhibits, it's sure to be an egg-citing scavenger hunt. After your hunt take a ride on the exciting Dinosaur Safari and to see dinosaurs come to life! April 19-20. 11am-2pm. Total Experience Ticket: $33.95; $28.95 seniors; $23.95 kids ages 3-12. Parking is $15.
Staten Island
Bring empty egg carton to decorate in high Victorian style, transforming it into a festive egg-holder which can hold up to 6 candy-filled eggs. Meet the Easter Bunny as you hunt for eggs in a Victorian town house decorated for spring. All decorations are provided. Refreshments will be served. Recommended for children ages 3 and up. Paid reservations are required by phone at 718-351-1611 x270. April 19. 11am-1:40pm. $5; $10 per child.
Long Island
Nassau
This is more than just an egg hunt! Sponsored by Long Islands K98.3, this free family festival of all things Easter will feature timed egg hunts divided into 3 age groups (4 and younger, ages 5-8, and 9 and older), bounce houses, a magician, face painters, live entertainment, and pictures with the Easter Bunny! There will also be lots of food, beverages, and free activities. Registration required. April 19. 9am-12:30pm. FREE.
Suffolk
In addition to egg hunts through out the afternoon, kids can enjoy a petting zoo, pony rides, and a visit form the Bunny. Hunst will take place every 15 minutes starting at 12:15pm and are divided into three age groups: ages 4 and younger, ages 5-6, and ages 7-9. April 12. 12-2pm. FREE.
The Bunny himself will be on hand to greet everyone. Prizes will be awarded to the children who find the "special eggs." April 12. 11am. (Rain date: April 13. 1pm.) FREE
In this fun hunt, kids will search for a specific color of eggs based on their age group. Stick around after the hunt to create a take home craft and a picture with the Easter Bunny. RSVP required at [email protected] or 631-727-4386. April 13. 10am. $12.89; $8.52 for children younger than 3.
Suburbs
Westchester County
Spring has sprung so join the fun at Greenburgh Nature Center's Spring Celebration. Join a naturalist and discover signs of spring throughout the grounds, make seasonal crafts, play games, and search for eggs in a nature-inspired egg hunt. Activities, including the hunt, will run throughout the day. Register early for discount. April 13. 11am-3pm. $15.
Make this Easter your wildest one yet! Spend the day at the center learning about the mythology, biology, and ecology of wolves. Then, join in an egg-hunt with a twist—instead of looking for eggs, guests will help hide them for the wolves to find! Registration is required. April 20. 2pm. $13; $11 for children 12 and younger.
Rockland County and Bergen County, NJ
Bring your own basket for this springtime celebration at the zoo. The hunt starts at 10am, but that's just the beginning of the fun. A very special guest will bounce into town around at 11am and will be hanging out until 1pm. Throughout the day zoo visitors participate in crafts, enjoy refreshments, or watch the animals take part in their own hunts. April 12. 10am. (Rain date April 13.) FREE.
Eggs Bunnydict at Tenafly Nature Center
After meeting a real bunny rabbit and learning about these gentle, curious, and affectionate animals, kids can create a holiday basket using recycled paper and search for hidden candy eggs along woodland trails. If you'd like, bring four hard boiled eggs and use natural dyes to decorate them. In case of inclement weather, the program will be held under cover. Children must be accompanied by an adult. Space is limited; registration is required. April 13. 2-4pm. $15.
Search high and low for prizes hidden throughout Haverstraw in this village-wide Easter egg hunt. You can also have your picture taken with the Easter Bunny at the village's "Old Caboose". April 13 and 20. 10 am, 12pm, and 1pm. FREE.
Children 10 and younger head out to the outfield with Boulder Bird for this special egg hunt at Provident Bank Park. Breakfast will be available for purchase starting at 9am and the 30-minute hunt starts at 9:45am. Kids will be divided two age groups: 5 and younger and ages 6-10. Hidden among the nearly 3,000 candy-filled eggs will be several "Golden Eggs" that contain special Boulders prizes including tickets and the ability to throw out the first pitch prior to a 2014 home game. Bring your own baskets. Kids can take pictures with Boulder Bird and the Bunny throughout the day. April 19. 9am. FREE.
Meet at the park for an afternoon of fun activities including an Easter Bunny meet-and-greet and photo op as well as an egg hunt sponsored by Ben & Jerry's. Bring your own basket for collecting eggs. April 19. 11am-2pm. FREE.
Fairfield County, CT
Take a hayride to the center's trails where you'll enjoy an egg-hunting hike. Afterward, color eggs and create spring nature-crafts in the pavilion to celebrate the arrival of spring. Don't forget to visit with the center's animals. Non-refundable paid reservations are required at 203-762-7280. April 12. (April 13 rain date) $15 per child.
Hop on over to Pump it Up Norwalk for an Easter egg Hunt that includes jumptime, crafts and visits with the Easter Bunny. Friday night is glow night! April 17-20. Thursday at 5-7pm; Friday 6:15-8:15pm; Saturday 9:15-10:45pm; Sunday 1-3pm. $15 per participant.
10TH Annual Heckscher Farm Egg Hunt at Stamford Museum & Nature Center
Kids 6 and younger can bring their own baskets and hunt for hundreds of eggs hidden all over Heckscher Farm. After collecting your eggs, turn them in for a goody bag and head over to Overbrook Nature Center to learn about other spring eggs.There will be ongoing self-guided crafts and a live egg-laying animals class to meet a chicken, a snake, and more. April 19. 10am-12:30pm. $5 per family plus admission: $10; $5 children 4-17; free for children younger than 4.