This year, share Valentine's Day love for your family and friends with a get-together that will make hearts flutter. This is a great time to celebrate all types of relationships, and what better way to do so than with a gathering at home? Here are some simple suggestions for how to do it.
Heart-Shaped Invites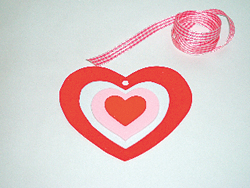 Start with an invitation-an old-fashioned greeting that comes in the mailbox is much more special than the electronic version these days, so if you have a few extra minutes, it's worth it.
Using a heart shaped cookie cutter, trace the shape onto heavy cardstock in a Valentine color. Cut out the heart shape. Write the information on the back. Punch a hole in the top center and tie a small ribbon or string through it. Be sure to get the correct size envelopes.
Décor
Transform your everyday dining space with homemade accents. A simple vase filled with red pebbles makes a perfect base for flowers. Or, set a heart inspired tablescape. Paper stores carry precut heart shapes in a variety of sizes, perfect for place mats and drink coasters. Sprinkle the table with confetti or small candies and finish it off with candles.
Menu
Nothing expresses love like home cooked meals and snacks. Since we are all busy these days, opt for easy recipes with high impact.
Appetizers/snacks: Heart-shaped tortilla chips-red (tomato based)-with salsa and hummus
Main course: Heart-shaped meatballs and pasta, or just meatballs and spaghetti
Dessert: Heart-shaped shortcakes or heart shaped slices of pound cake with fresh cream and berries
Kid Crafts
Keep the little partygoers busy with fun and easy activities.
Heart shaped sugar cookies with tie-dye icing: Using store bought cookie dough, bake cookies according to instructions. Then, ice the cookies with light pink frosting. Take a tube of red decorative frosting and put dots on top of the pink. With a toothpick, swirl the red dots to create a tie-dye effect.
Valentine's Heart Tree: A perfect project for all of your little valentines. What child isn't excited about working with foamies? Soft, safe, and colorful foamy hearts look like works of art swirling from winter's branches. Set in a glass cylinder in a bed of crystal beads, it is a welcome cheery accent and a wonderful way to display your child's work.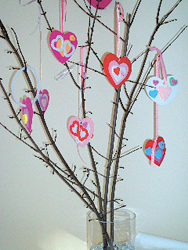 You'll Need:
Foamy sheets in purple, pink, red, and white
2 sizes plastic heart cookie cutters
Pencil
Scissors
Hole punch
Ribbon for hanging
Cut branches
Glass beads
Glass cylinder
Cut branches and arrange in the glass cylinder filled with glass beads.
For hearts: Trace the cookie cutter template on foamy sheets. Cut out heart shapes and decorate. Punch a hole in the top center of each heart. String ribbon through and tie to branches.
Whether hosting an adult or family oriented party, these are easy Valentine's Day ideas that will keep the love going!
Colleen Mullaney is an entertaining maven and a former editor in chief of Family Circle Homecrafts, FTD in bloom, and Jo-Ann magazines. Her books include Shells, Faux Fabulous Florals (Sixth & Spring), and her popular Punch (Chronicle Books); One-of-a-Kind Weddings (Creative Publishing) and It's 5 O'Clock Somewhere (Sixth & Spring).