Earthy parsnips and sweet apples combine to make a perfectly sublime soup in this recipe from The Lazy Gourmet cookbook.
The vegetables and apples can all be coarsely chopped since they'll be puréed in the end anyway, making preparation a breeze!
Ingredients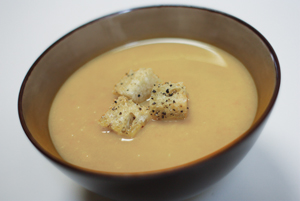 2 tablespoons unsalted butter
2 tablespoons olive oil
1 1/2 pounds parsnips, peeled and chopped
2 large apples (any type), peeled, cored, and chopped
1 medium potato, peeled and chopped
3 medium shallots, chopped
1 teaspoon kosher salt
1/4-1/2 teaspoon freshly ground black pepper
5 cups chicken or vegetable broth
1/2 cup heavy cream
Homemade croutons (regular, or the blue cheese variation, recipe in book) or parmesan lace (recipe in book) for garnish
Instructions
In a stockpot, heat the butter and olive oil over medium-high heat until butter is melted and bubbling. Add the parsnips, apples, potatoes, shallots, salt, and pepper, and cook, stirring occasionally, about 8 to 10 minutes. Add broth and bring to a boil over high heat. Reduce heat to medium-low, cover, and simmer until the parsnips and potatoes are soft, about 20 minutes. Using an immersion blender (or in batches in a countertop blender or food processor), purée the soup until smooth. Stir in cream, taste, and add additional salt and pepper if needed. Serve hot, garnished with croutons or lace.
Serves 4 to 6
Make it Ahead
The soup can be made a couple of days ahead up to and including the puréeing. Store, covered, in the fridge until ready to serve. Before serving, reheat over medium heat and stir in the cream.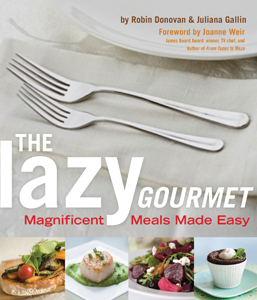 Excerpted from The Lazy Gourmet: Magnificent Meals Made Easy, which contains even more valuable advice for rookie cooks, including how to get your butcher to do some prep for you, and all you need to know about nonreactive pans -- plus tons of truly do-able, delicious recipes.
Also see: Cooking Tips and Shortcuts for Novice Chefs