EMMA'S PUMPKINS - A HALLOWEEN TALE WITH A HEARTWARMING MESSAGE
Related:
emma's pumpkins
,
betty yanchulis
,
halloween
,
stories
,
special needs
,
obstacles
,
children's books
,
literature
,
seasonal
,
,
When her family moves into a new house on Halloween, Emma decorates their new porch using her positive spirit in "Emma's Pumpkins" by Betty Yanchulis.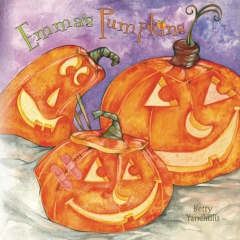 Delve into a heartwarming story this Halloween season that brings a child's inspiring perspective to the spirit of the holiday. "Emma's Pumpkins" by Betty Yanchulis focuses on a headstrong protagonist, Emma, who despite using crutches due to a disability, never once considers herself as one having special needs. This tenacity and optimism translates into Emma's vibrant personality come Halloween time.
When Emma is faced with her family moving to a new home on Halloween, she worries about the lack of decoration and holiday spirit that her new house will possess. Emma devises a plan to put pumpkins on the new porch to make trick-or-treaters in the neighborhood happy, but is still uncertain about finding any pumpkins at such late notice. At the farm, Emma notices there are only three pumpkins left, all with their own imperfections, but with her signature positive outlook, she finds perfection in each one. Her incredible and unwavering optimism impresses everyone as she makes a big splash in her new neighborhood on Halloween night.
"Emma's Pumpkins" is the first book for author Betty Yanchulis, who found inspiration for the story as a young child when she encountered a classmate similar to the character of Emma. She works as a civil engineer, but enjoys the power of storytelling with her grandsons, and through stories like "Emma's Pumpkins." Yanchulis hopes to continue writing and publishing in the future.
"Emma's Pumpkins" is available via Amazon.com ($9.99 USD).
---
Get Your FREE Indoor Activity eGuide!
---
More PRODUCTS Articles
Holiday Fashions for Boys and Girls
Photographer Behind Humans of New York Releases Children's Book
New Book Encourages Kids to Give Up Halloween Candy
Runnin' Wild Kids Shoes Owner Opens Toy Store
Top 10 Audiobooks for Halloween Season