My 10-year-old daughter had been eagerly anticipating the opening of The Horse at the American Museum of Natural History.  So, apparently, was the entire population of the city.  On the second day of the exhibit, even with our timed tickets, we had to wait on a long line to enter, and then we were hustled through the introductory section, with a horse galloping in high-def.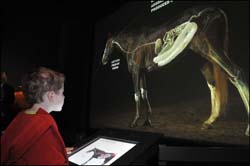 Photo credit: AMNH
   Nora was somewhat disappointed by the exhibit, maybe because she'd rather ride a horse than look at a skeleton of one.  But she nonetheless read about every different type of horse and correctly identified all the 'mystery' objects (a bit, riding crop, stirrup; all 'gimmies' for an equine enthusiast).
   The Horse, which runs through January 4, 2009, uses the relationship between horses and humans as its jumping off point, exploring equine influence on warfare (there's an armored horse), transportation, sports (polo and horse racing) and more.  We examined a recreated archeological dig that explored the domestication of horses and other animals.  There's a huge diorama of the Great Plains from 10 million years ago, with extinct horse species.
   Kids can spin a zoetrope with photos by Eadweard Muybridge and watch as the horses seem to trot, gallop and canter though the photos are a series of stills.  They can also compare their arm power to horsepower, pulling on a lever with all their might.  And they can touch casts of horse teeth and measure how many hands they are.
   You may think of Shetland ponies as adorable, but you will learn that they were bred smaller and smaller so they could work in mines.  Similarly, draft horses were bred to be bigger for work use.  If you follow modern horse racing, you can discuss the breeding of horses to be faster and sleeker, and the inevitable tragedies that occur.
   We didn't see anything about people eating horsemeat, but there is a display of a hoof-shaped cup used in Siberia to drink ceremonial fermented mare's milk.
   The video, An Enduring Bond, looks at horses and humans today.  It shows a teenage cowgirl out west, a mounted policeman in Times Square, and a girl in a therapeutic riding program at our local stable, Kensington Stables, in Brooklyn.
  We plan to wait for the crowds to thin for a return visit at a more leisurely pace.
Info
Where: American Museum of Natural History, Central Park West at 79th Street.
When: Daily, 10am-5:45pm.  Admission by timed ticket only.
How much: Suggested admission $15, $11 students/seniors, $8.50 children
For more information: 212-769-5100; www.amnh.org.